Description

Specifications

Videos
Snapmaker 2.0 is a modular 3-in-1 3D printer that allows you to unleash your entire creative potential, from 3D printing to laser engraving, cutting, and CNC carving.
Snapmaker 2.0 is smarter, quicker, larger, and more powerful than any previous version. It is a new generation of 3-in-1 3D printers that include everything you require!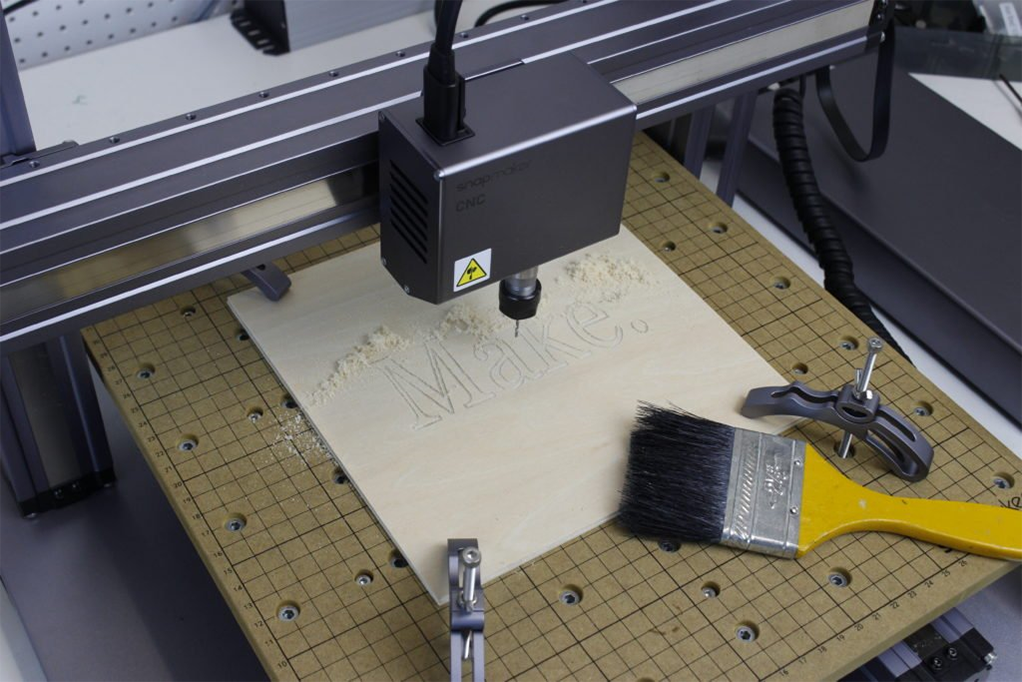 Snapmaker 2.0 modular 3-in-1 3D printers are perfect for novices, enthusiasts who seek more customized options, and engineers and designers who wish to create massive things or accurate parts with exceptional print quality.
Traditional 3D printers can only print in three dimensions. Your Snapmaker 2.0 is entirely unique. Snapmaker's functionality can be readily altered thanks to replaceable modules, similarly to changing lenses on a camera. Laser engraving and cutting may now be used to create a wide range of stunning and artistic items.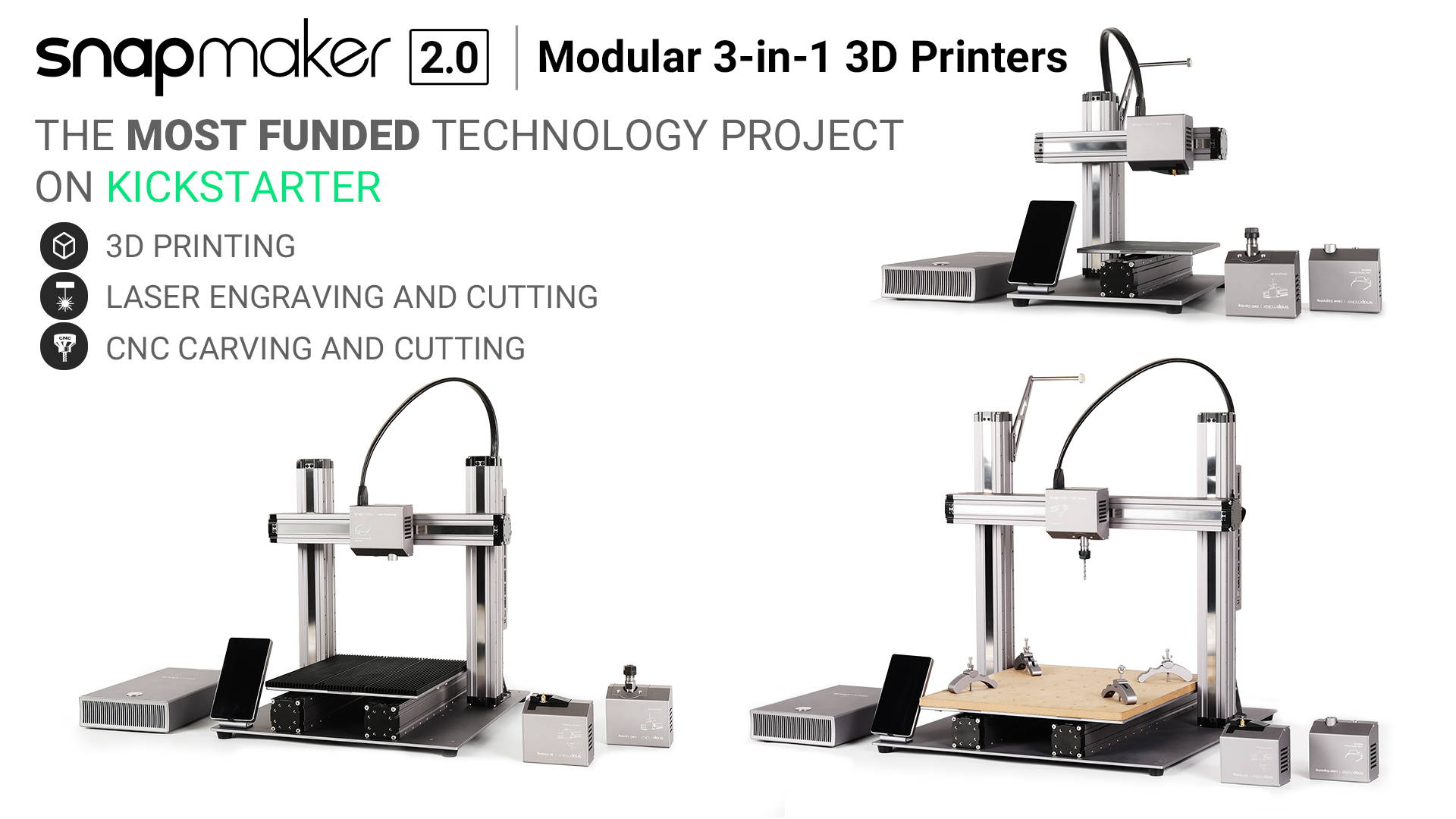 Snapmaker 2.0 can also be used as a CNC router to construct precise 2.5D and 3D items. It works at a faster rate and has a considerably broader workspace than the original model. It is the ideal machine for furthering your interest in CNC carving.
Snapmaker 2.0 allows you to print nearly anything for your creative endeavors, from everyday objects to products with unique mechanical features like toughness, durability, and flexibility. Snapmaker 2.0 can do everything!
Highlights of Snapmaker 2.0 A150
3-in-1 innovation -

Unlocks your entire creative potential with 3D printing, laser engraving, cutting, and CNC carving.
It is a brand-new generation of 3-in-1 3D printer that has everything you need!
Large Workspace -

You may create large prototypes as well as several smaller things all at once.

The A150 has a huge construction volume,

measuring 160 x 160 x 145 mm.

Imagine a 3D printer that can be upgraded and customized

; it's a system of sophisticated modules and add-ons

. You may gain a variety of new features

by purchasing new modules or kits.
High Resolution -

Because it is made of high-precision parts,

it can print, engrave, cut, and carve objects in high resolution on a continuous basis.

Snapmaker Luban 3-in-1 Software is designed specifically for your Snapmaker machines.

All of your tasks can be handled by a single, powerful piece of software.

A plugin system, API, and tutorials are included.

You can even create additional features for your personalized modules. We will collaborate to create a fully modular system.

 
3-in-1 Software
The 3-in-1 software is designed specifically for your Snapmaker machines. All of your tasks can be handled by a single, powerful piece of software. Over the last year and a half, it has gone through 18 revisions, adding capabilities like multiple model printing/engraving / cutting/carving, SVG editing, relief carving, and multi-language support. We included several popular requests from our community through rapid iterations.
Wi-Fi Network Connectivity
You can connect your Snapmaker 2.0 to any setup for your convenience using the Wi-Fi functionality and the USB port. You may print designs at the push of a button after uploading them over Wi-Fi or a USB flash drive. Furthermore, you can update the firmware directly through Wi-Fi.
Smart Touch Screen
Historically, machines such as 3D printers, laser cutters, and CNC routers did not place enough emphasis on HMI (Human Machine Interface). Snapmaker 2.0 includes a smart touchscreen that streamlines the workflow of your daily projects by allowing you to manage the most frequently used tasks directly from the touchscreen. This 5-inch (720 x 1280 pixels) moveable touchscreen, like a smartphone, is powered by a Quad-Core A7 CPU @1.1GHz and runs Android OS. offering a fast and smooth interface
Recovering from a Power Outage
You no longer have to be concerned about power disruptions. Snapmaker 2.0 detects power outages automatically and resumes precisely where it left off. You can always recover any project and receive perfect printing/engraving/cutting/carving results.
Simple to Assemble
You know a thing if you build it. Building a functioning 3D printer is a daunting notion, let alone a laser cutter or CNC router. We were able to persuade folks that they could assemble our original model in 20 minutes on the first try. This time, we're convinced that you'll enjoy the process of assembling your own Snapmaker 2.0 and that this will be the best kit you've ever assembled.
High-Precision
Snapmaker 2.0 makes high-precision computer-controlled equipment easily accessible from any desk. It features great accuracy and reproducibility due to the use of just the highest quality components, allowing it to 3D print, engrave, and cut high-resolution things.
Well-Made
After a number of manufacturing stages, the aerospace-grade aluminum alloys are transformed into precision, dependable Snapmaker modules. Each production process is rigorously regulated, and each component is precisely crafted. Snapmaker 2.0 not only looks great, but it also performs exceptionally well.
All-Metal
We pushed the limits of all-metal design even farther with Snapmaker 2.0. The controller board and power adapter now have aluminum alloy housings for improved heat dissipation; the original POM rollers have been updated to steel rollers for increased load-bearing capacity and stiffness.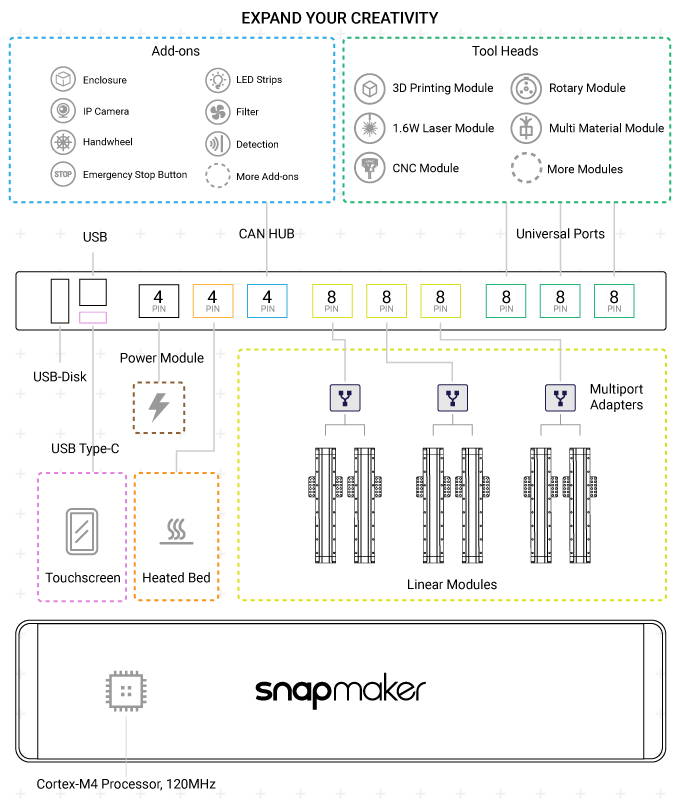 Main Features of Snapmaker 2.0 A150
Auto-Leveling 
Bed leveling can be a difficult task, particularly for inexperienced users. We've introduced auto-leveling to make the procedure easier. This implies that you will always print on a leveled heated bed with the newly incorporated induction sensor.
Filament Runout Recovery 
Say no to "air printing" or unfinished prints. The printer, which is equipped with a filament runout sensor, will warn you when the filament has run out. Large items can now be printed without fear.
Upgraded Cooling System 
When it comes to FDM 3D printing, cooling is equally as vital as heating. The cooling system in Snapmaker 2.0 has been redesigned to print products with deeper overhangs and smoother surfaces.
Platform Flexibility 
Removing a print is now simple than ever. Simply pull and flex the sheet, and your print will be removed. In a second, you may snap the print sheet back onto the magnetic heated bed.
Camera Integrated 
The built-in camera enables you to preview your design with any material you choose. You can tweak your design and position it just where you want it. What you see is exactly what you get!
Engraving Speed 
The faster the better. We added the Line (Normal Quality) mode to allow for faster engraving of grayscale images. When engraving large grayscale photos, this tool can save you hours without sacrificing quality.
Aluminum Grid Table 
The Aluminum Grid Table is specially intended to protect the bed from harm during cutting by defocusing the laser beam. It is detachable and really firm.
ER11 Collet
Snapmaker 2.0 has been completely improved. The new standard ER11 Collet ensures improved concentricity, allowing for quicker CNC cutting speeds and bigger step-downs. It also accepts more than a hundred carving and cutting tools.
Clamping Kits & Wasteboard 
Each Snapmaker 2.0 comes with an MDF wasteboard and clamping kits. The wasteboard is detachable and can be used to protect the bed while also providing a smooth and level surface for precision CNC carving.
Dust Resistance
The linear module in Snapmaker 2.0 has been updated for ease of maintenance. The leadscrew, driver chip, and precision parts are entirely enclosed in aluminum alloy housings, which reduces dirt accumulation and increases longevity.
What's inside the box?
You will receive the Snapmaker 2.0 including everything you need to start your maker journey:
Linear Modules

3D Printing Module

Laser Engraving/ Cutting Module (1600mW, Built-in Camera)

CNC Carving Module (ER11 Collet)

Controller (Cortex-M4 Processor)

5" Smart Touchscreen (Android OS, Quad-Core A7 CPU @ 1.1GHz)

Magnetic Heated Bed with Removable Print Sheet

Aluminum Grid Table

Wasteboard & Clamp Set

Snapmaker 3-in-1 Software

PLA Filament (1kg Spool)
Warranty of Snapmaker 3D Printers
Snapmaker offers a 2-year warranty for customers from EU countries and a 1-year warranty for customers from Non-EU countries. 
Returns & Refund Policy of Snapmaker 3D Printers
Return and refund requests can be requested within seven (7) calendar days of receiving a Product if the Product has no manufacturing defect, has not been used, and is still in new or like-new condition, Or within seven (7) calendar days of receiving a Product if the Product has a manufacturing defect.
Technical Specifications of Snapmaker 2.0 A150
General (A150)

Size

When the support platform is moved to the maximum length, the length of the A150 is 360mm.

Frame Material

Aluminum Alloys

Connectivity

Wi-Fi, USB Cable, USB Flash Drive

Touchscreen

5", Android OS, Quad Core A7 CPU @ 1.1GHz

Software

Snapmaker Luban. You can also use 3rd party software to generate G-code files.

Supported OS

macOS, Windows, Linux

Rated Power

320W

3D Printing (A150)

Layer Resolution

50 - 300 microns

Nozzle Temperature

Up to 275°C

Supported Materials

PLA, ABS, TPU, Wood Filled PLA, more being tested

Heated Bed Temperature

A150: Up to 110°C

 

Design File Formats

STL, OBJ, SNAP3DP

Processable Format

GCODE

Laser (A150)

Camera

Built-in Camera

Laser Power

1600mW 450nm Laser Diode

Wavelength

450nm

Safety Class

Class 4

Supported Materials

Wood, leather, plastic, fabric, paper, non-transparent acrylic, more being tested

Design File Formats

SVG, JPEG, PNG, JPG, BMP, DXF, SNAPLZR

Processable Format

NC

CNC (A150)

Shank Diameter

0.5mm - 6.35mm (0.02 - 0.25 inches)

Spindle Speed

6,000 - 12,000 RPM

Supported Materials

Wood, acrylic, PCB, carbon fiber sheet, jade, more being tested

Design File Formats

SVG, JPEG, PNG, JPG, BMP, DXF, SNAPCNC

Processable Format

CNC
Notice: The specifications listed might be slightly changed in any meaningful way when we refine these products.

Introduction
 Video Reviews
by CNC Kitchen
by The 3D printing Zone
Our goal is to offer you the best shipping options, no matter where you live. Every day, we deliver to hundreds of customers across the world, ensuring that we provide the very highest levels of responsiveness to you at all times.
We try to make the delivery process as simple as possible, and we can send your order either to your home or workplace. Unfortunately, we do not offer deliveries to PO boxes or parcel motels

The time frame for order delivery is divided into two parts:

Processing Time: Order verification, tailoring, quality check, and packaging. All orders are sent to the warehouse for dispatch within 24 hours after the order is placed. The warehouse and the post office process the orders, which takes an additional 2–4 business days.

Shipping Time: This refers to the time it takes for items to be shipped from our warehouse to the destination. National delivery usually takes about 5 business days. After processing and leaving the warehouse, items usually take between 3 and 5 business days to arrive at their destination but sometimes can take longer because of delayed logistics and customs clearings which might impact the delivery time.

Note: Tracking information is available within 1-3 days after ordering. If you received a tracking number that is not working at the time you are trying, please check again within 24 hours before contacting us as it takes time to update in the system. Thank you!

Customers are responsible for providing complete and accurate shipping addresses to 3DCraftMakers. 3DCraftMakers is not able to make changes to your shipping address once a package leaves our warehouse, and 3DCraftMakers is not liable for packages that are lost due to incomplete or inaccurate addresses.

All orders reported as "Delivered" by courier companies are considered delivered. 3DCraftMakers cannot be made liable of non-delivery in this case.

If a delivery fails for any reason and the address the order was sent to, was the correct address as provided by the customer, 3DCraftMakers cannot be held liable if a package is returned to our warehouse.
The order placed by the customer on our website is the order 3DCraftMakers will ship to the customer. We cannot be held liable for the customer receiving a wrong item if they placed the wrong order.
Refund Policy & Privacy Policy
Returns:
We would accept returns if you notify us via email at support@3dcraftmakers.com within 15 days after your package had been delivered (according to the tracking information provided). If 15 days had gone by after your package was delivered, unfortunately, we would not be able to offer you a refund or exchange.
To be eligible for a return, your item must be in the same condition that it was in when you received it. It must also be in the original packaging.
In the rare case that a product becomes faulty or a buyer receives a product with defects, buyers are entitled to request for a product replacement within 30 days of receiving the item. To request a replacement, buyers are required to provide photo/video evidence of the product's manufacturing defects via email at support@3dcraftmakers.com. If the case is deemed valid, we will cover the related cost to deliver a replacement!
**Please also include your invoice number/order number for us to match up your order in the system.
*** Please enclose in the return package your order info and state clearly if you would like a replacement or refund.


The following information is needed to process your request:
1) Your order number
2) The email address used to place the order
3) Reasons for return
Please send the above information to us via email at support@3dcraftmakers.com. You should also enclose it in your returned package for us to match your order. Without the information, we would not be able to identify and process your package.

Refunds (if applicable)
Once your return is received and inspected, we will notify you of the approval or rejection of your refund.
If approved, your refund would be processed, and a credit would be automatically applied to your credit card or original method of payment, you can expect a refund within 1-3 business days. 
Alternatively, the credit can be applied via the form of an electronic gift card of equivalent value.

Late or missing refunds (if applicable)
If you haven't received a refund yet, here are the steps you can take:
Check your bank balance again (transactions may have been delayed).
Contact your credit card company (it may take some time before your refund is officially posted, as it may take up to 3-5 business days for them to process the credit).
Contact your bank (check the processing time before a refund is posted).
 Please contact us via email at support@3dcraftmakers.com should you have further questions.
Replacements (if applicable)
We only replace defective or damaged items. If you need to exchange it for the same item, email us at support@3dcraftmakers.com.
Warranty: 
- If you discover a fault, please contact us immediately including the picture of the packaging of your order with the faulty item & your order confirmation #? (within 3 days of receiving your parcel)
- You will be responsible for paying for your own shipping costs for returning your item. Shipping costs are non-refundable. If you receive a refund, the cost of return shipping will be deducted from your refund. 
- All returns and exchanges must be in brand new, restocking condition and contain all original packaging and accessories to be accepted. 
- Items that have been in contact with any food product cannot be returned. 

- Product damaged through customer abuse or improper handling will not be accepted. 
- Original Shipping charges and Return Delivery charges will not be refunded. 

- Special Orders cannot be returned. 
Once we have received and inspected the returned merchandise, you will be notified via email concerning your refund. If approved, you can expect a refund within 1-3 business days.
What is NOT covered by warranty:
Improper usage, storage, or handling of the item
Using the item in a way that it was not designed for
Damage caused by impact, shock, sand/dust/dirt, dampness, leaking batteries, fire, theft, attempted theft, vandalism, corrosion, frost, flooding, earthquakes, lightning, or other adverse weather conditions
Any accidental or malicious damage
Privacy Policy: 
PRIVACY STATEMENT
SECTION 1 - WHAT DO WE DO WITH YOUR INFORMATION?
When you purchase something from our store, as part of the buying and selling process, we collect the personal information you give us such as your name, address and email address. 
When you browse our store, we also automatically receive your computer's internet protocol (IP) address in order to provide us with information that helps us learn about your browser and operating system. 
Email marketing (if applicable): With your permission, we may send you emails about our store, new products, and other updates. You can unsubscribe anytime at the bottom of our emails.
Text Marketing and notifications:
By subscribing to text notifications you agree to receive recurring automated marketing messages at the phone number provided. Consent is not a condition of purchase. Reply STOP to unsubscribe. HELP for help. Msg & Data rates may apply. More info view Privacy Policy and Tos.
SECTION 2 - CONSENT
How do you get my consent? 
When you provide us with personal information to complete a transaction, verify your credit card, place an order, arrange for a delivery or return a purchase, we imply that you consent to our collecting it and using it for that specific reason only. 
If we ask for your personal information for a secondary reason, like marketing, we will either ask you directly for your expressed consent or provide you with an opportunity to say no.
How do I withdraw my consent? 

If after you opt-in, you change your mind, you may withdraw your consent for us to contact you, for the continued collection, use or disclosure of your information, at any time, by contacting us at support@3dcraftmakers.com.
SECTION 3 - DISCLOSURE
We may disclose your personal information if we are required by law to do so or if you violate our Terms of Service.
SECTION 4 - SHOPIFY
Our store is hosted on Shopify Inc. They provide us with the online e-commerce platform that allows us to sell our products and services to you. 
Your data is stored through Shopify's data storage, databases, and the general Shopify application. They store your data on a secure server behind a firewall.
Payment: 

If you choose a direct payment gateway to complete your purchase, then Shopify stores your credit card data. It is encrypted through the Payment Card Industry Data Security Standard (PCI-DSS). Your purchase transaction data is stored only as long as is necessary to complete your purchase transaction. After that is complete, your purchase transaction information is deleted. 
All direct payment gateways adhere to the standards set by PCI-DSS as managed by the PCI Security Standards Council, which is a joint effort of brands like Visa, MasterCard, American Express and Discover. 
PCI-DSS requirements help ensure the secure handling of credit card information by our store and its service providers. 
For more insight, you may also want to read Shopify's Terms of Service (https://www.shopify.com/legal/terms) or Privacy Statement (https://www.shopify.com/legal/privacy).
SECTION 5 - THIRD-PARTY SERVICES
In general, the third-party providers used by us will only collect, use and disclose your information to the extent necessary to allow them to perform the services they provide to us. 
However, certain third-party service providers, such as payment gateways and other payment transaction processors, have their own privacy policies in respect to the information we are required to provide to them for your purchase-related transactions. 
For these providers, we recommend that you read their privacy policies so you can understand the manner in which your personal information will be handled by these providers. 
In particular, remember that certain providers may be located in or have facilities that are located in a different jurisdiction than either you or us. So if you elect to proceed with a transaction that involves the services of a third-party service provider, then your information may become subject to the laws of the jurisdiction(s) in which that service provider or its facilities are located. 
As an example, if you are located in Canada and your transaction is processed by a payment gateway located in the United States, then your personal information used in completing that transaction may be subject to disclosure under United States legislation, including the Patriot Act. 
Once you leave our store's website or are redirected to a third-party website or application, you are no longer governed by this Privacy Policy or our website's Terms of Service.
Links 
When you click on links on our store, they may direct you away from our site. We are not responsible for the privacy practices of other sites and encourage you to read their privacy statements. 
Google analytics: 
Our store uses Google Analytics to help us learn about who visits our site and what pages are being looked at
SECTION 6 - SECURITY
To protect your personal information, we take reasonable precautions and follow industry best practices to make sure it is not inappropriately lost, misused, accessed, disclosed, altered or destroyed. 
If you provide us with your credit card information, the information is encrypted using secure socket layer technology (SSL) and stored with a AES-256 encryption. Although no method of transmission over the Internet or electronic storage is 100% secure, we follow all PCI-DSS requirements and implement additional generally accepted industry standards.
SECTION 7 - COOKIES
Here is a list of cookies that we use. We've listed them here so you that you can choose if you want to opt-out of cookies or not. 
_session_id, unique token, sessional, Allows Shopify to store information about your session (referrer, landing page, etc). 
_shopify_visit, no data held, Persistent for 30 minutes from the last visit, Used by our website provider's internal stats tracker to record the number of visits 
_shopify_uniq, no data held, expires midnight (relative to the visitor) of the next day, Counts the number of visits to a store by a single customer. 
cart, unique token, persistent for 2 weeks, Stores information about the contents of your cart. 
_secure_session_id, unique token, sessional 
storefront_digest, unique token, indefinite If the shop has a password, this is used to determine if the current visitor has access. 
PREF, persistent for a very short period, Set by Google and tracks who visits the store and from where
SECTION 8 - AGE OF CONSENT
By using this site, you represent that you are at least the age of majority in your state or province of residence, or that you are the age of majority in your state or province of residence and you have given us your consent to allow any of your minor dependents to use this site.
SECTION 9 - CHANGES TO THIS PRIVACY POLICY
We reserve the right to modify this privacy policy at any time, so please review it frequently. Changes and clarifications will take effect immediately upon their posting on the website. If we make material changes to this policy, we will notify you here that it has been updated, so that you are aware of what information we collect, how we use it, and under what circumstances, if any, we use and/or disclose it. 
If our store is acquired or merged with another company, your information may be transferred to the new owners so that we may continue to sell products to you.
QUESTIONS AND CONTACT INFORMATION
If you would like to: access, correct, amend or delete any personal information we have about you, register a complaint, or simply want more information contact our Privacy Compliance Officer at support@3dcraftmakers.com or by mail at Leap Discovery LLC, 3 Germay Dr, Unit 4 Wilmington , Delaware 19804.
Payment & Security
Your payment information is processed securely. We do not store credit card details nor have access to your credit card information.