Description

Specifications

Videos
F350 is a modular 3D printer that offers a large work area and decent features. 
The product includes everything you need to start your maker journey:
Newly designed Linear Modules

Newly designed 3D Printing Module

Newly designed Power Module

Controller powered by Cortex-M4 Processor

5" Smart Touchscreen (Android OS, Quad Core A7 CPU @ 1.1GHz)

Magnetic heated bed with a removable print sheet

Custom software: Snapmaker Luban

1kg spool of PLA filament
Snapmaker Care (Optional)
Snapmaker Care covers two incidents of repair or replacement from the purchase of the machine to one year after the end of the standard warranty. Learn more.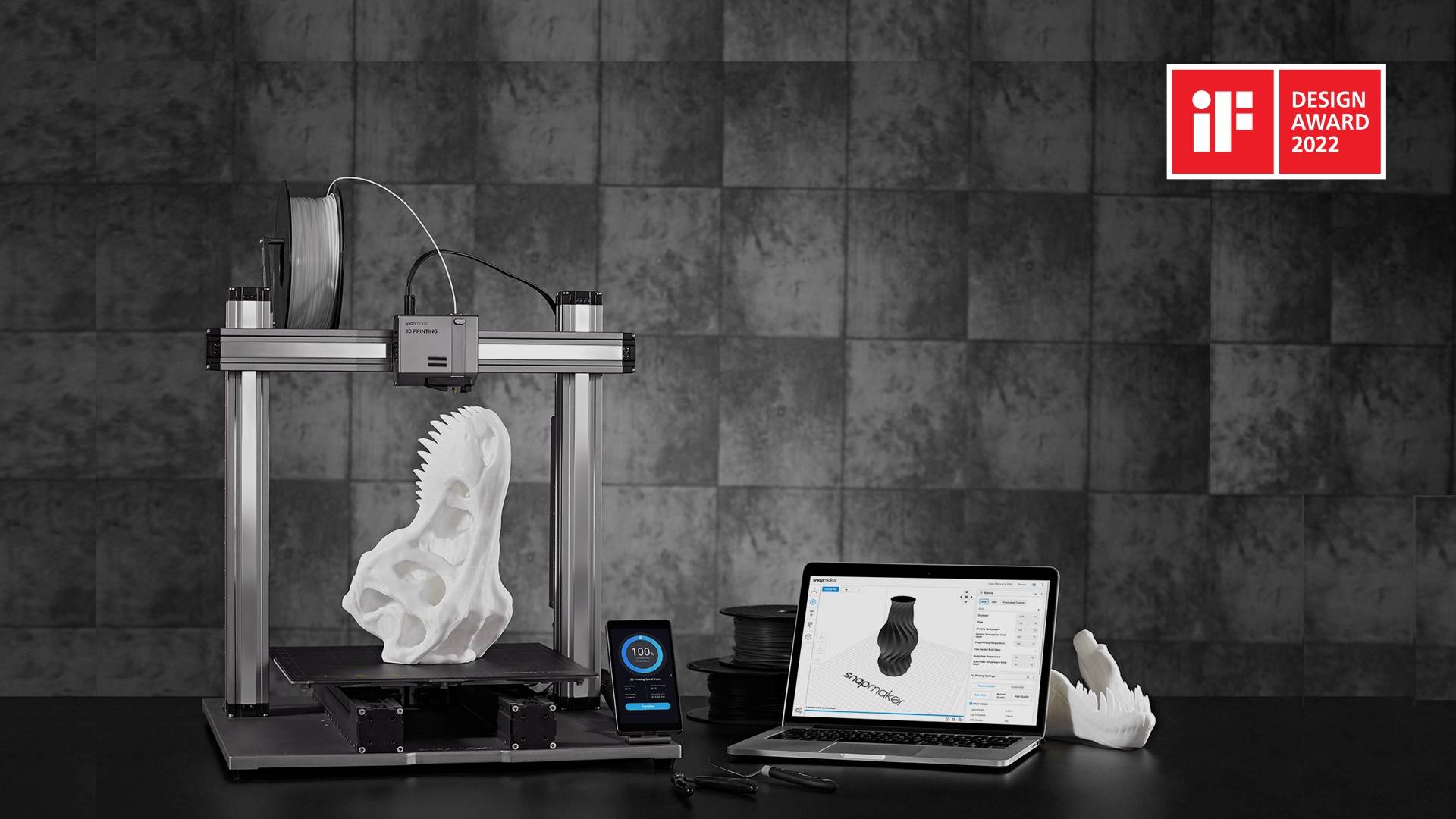 Snapmaker 2.0 3D Printer Wins International IF Design Award 2022
Snapmaker won the IF Design Award 2022 for their main product, the Snapmaker 2.0 all-metal 3D Printer, on April 12, 2022. Snapmaker 2.0 is a desktop modular 3D printer that combines 3D printing, laser engraving, and CNC carving. Snapmaker 2.0, equipped with a Rotary Module, makes the transition from flat to curved surfaces, achieving high-precision four-axis milling.
Snapmaker 2.0 Modular 3D Printer F350 Helps You Make the next big thing
The F350 is a stripped-down version of the A350T/A250T that just has the 3D printing feature. For beginners, the F350 is more cheap and simple to operate. Even better, it may be customized for additional functionality by purchasing Snapmaker 2.0 Modules or Addons.
Large Work Area

Faster Printing

Noise Reduction

Modular Design

High Quality

Everything You Need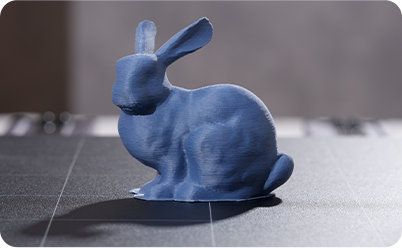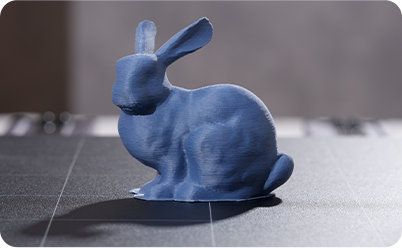 A Larger Print Factory On Desk
When we say "large", we mean it. As a desktop 3D printer, F250 offers a 230 × 250 × 235 mm work area and decent features at less than 1,000 EUR. 
For an extra 200 EUR, you can upgrade to an almost 2 times larger F350, capable of printing one-piece large-scale prototypes.
All For Faster Printing!
"Faster Printing" means that you can set higher speeds without compromising print quality. And along with that, in the subsequent update to Snapmaker Luban, the default work speed will be preset higher.
Main Features of the Snapmaker F350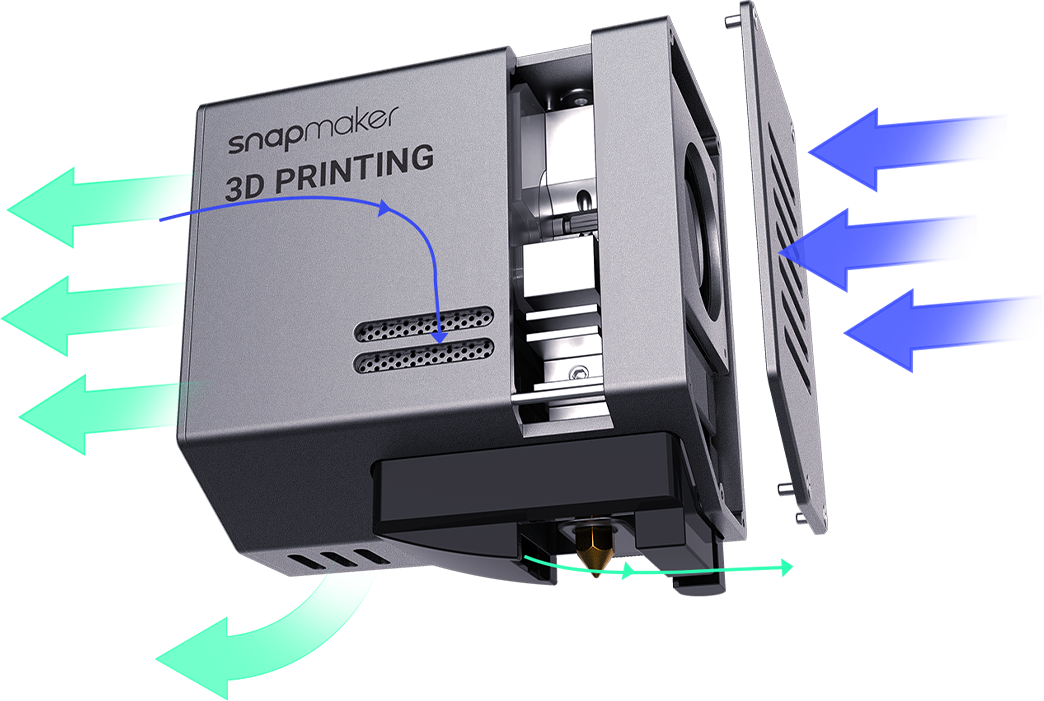 Upgraded Cooling System
F350's cooling system is upgraded to combine fast speed and brilliant accuracy at the same time. You can now 3D print larger projects even faster.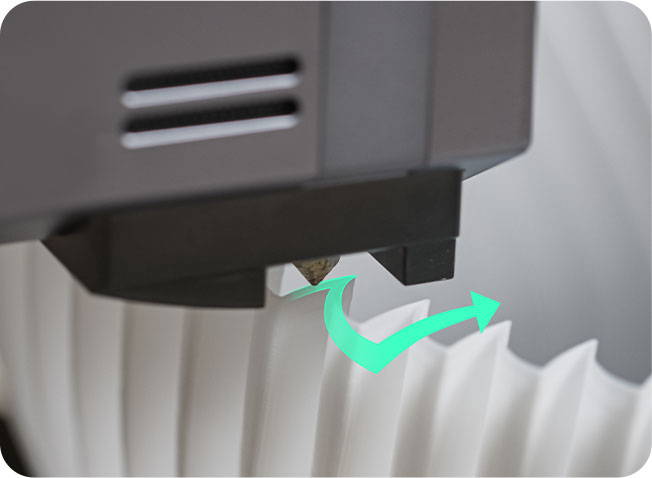 Improved Motion Controlling Algorithm
The optimization of F350's motion control algorithm improves the coordination between the Extruder and the Linear Modules. Thus, problems including gaps, cracks and overflow are considerably alleviated, ensuring quality during moderate to high speed printing.
Note:
[1] The test result of A350 is from the previous version that has not been firmware upgraded for motion control algorithm improvement.
[2] The test result was obtained in Snapmaker laboratory, which may vary according to the testing conditions and product iteration, and is for reference only.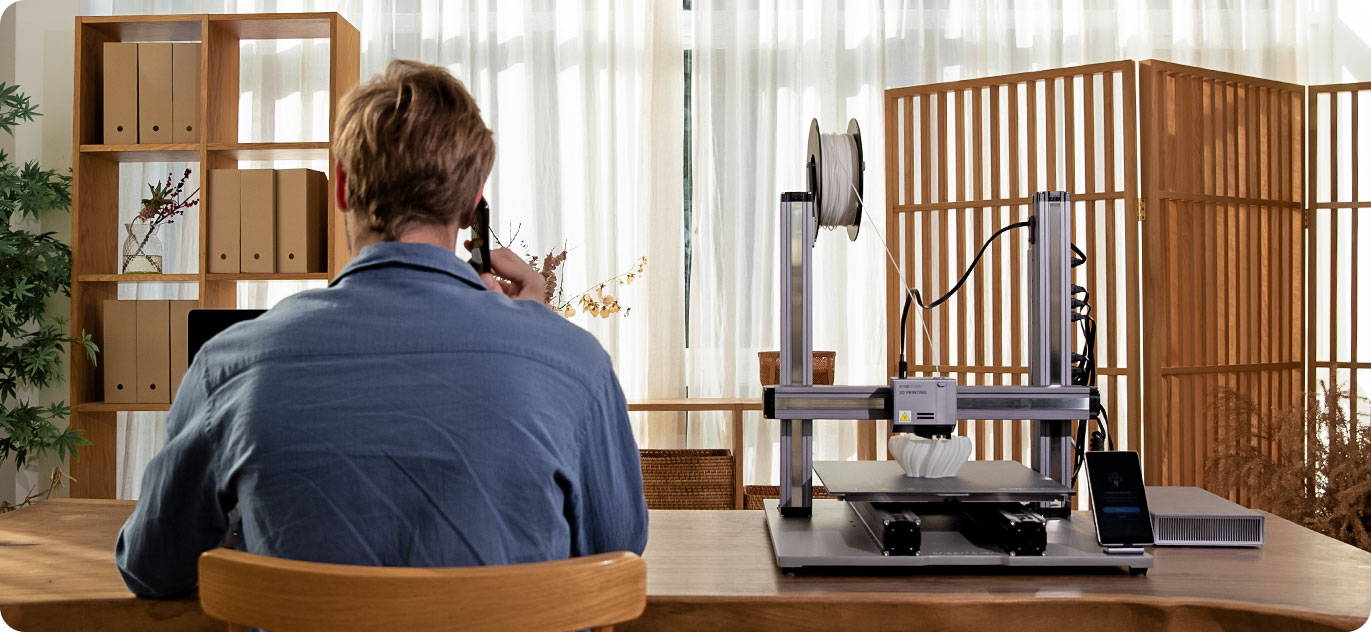 The Quieter the Better
During normal printing, the F350 has an average noise level of about 50 dB(A)—a typical home or office noise. Feel free to set the F350 in your living room or study and really spend time with it to check the print in real-time.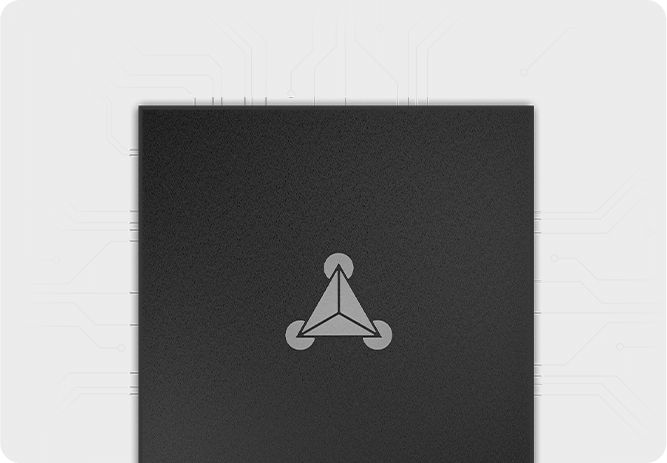 Noise Reduction Chip
Although the levels might vary, certain parts of the machine can produce noise while operating. With the new F350 Linear Modules, the noise gets reduced substantially, thanks to the TMC2209 stepper motor driver chips embedded.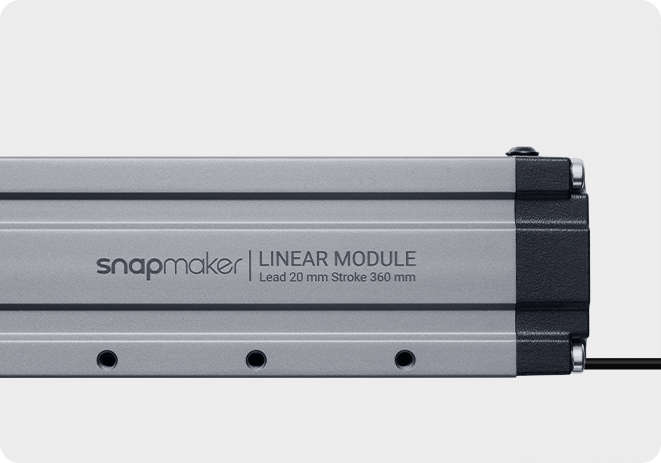 Lead Optimization on Linear Module
Quieter printing doesn't necessarily mean slower speed. Snapmaker accordingly increases the leads of the X and Y axes' screw rods, from 8 mm to 20 mm, ensuring a stable and fast working speed.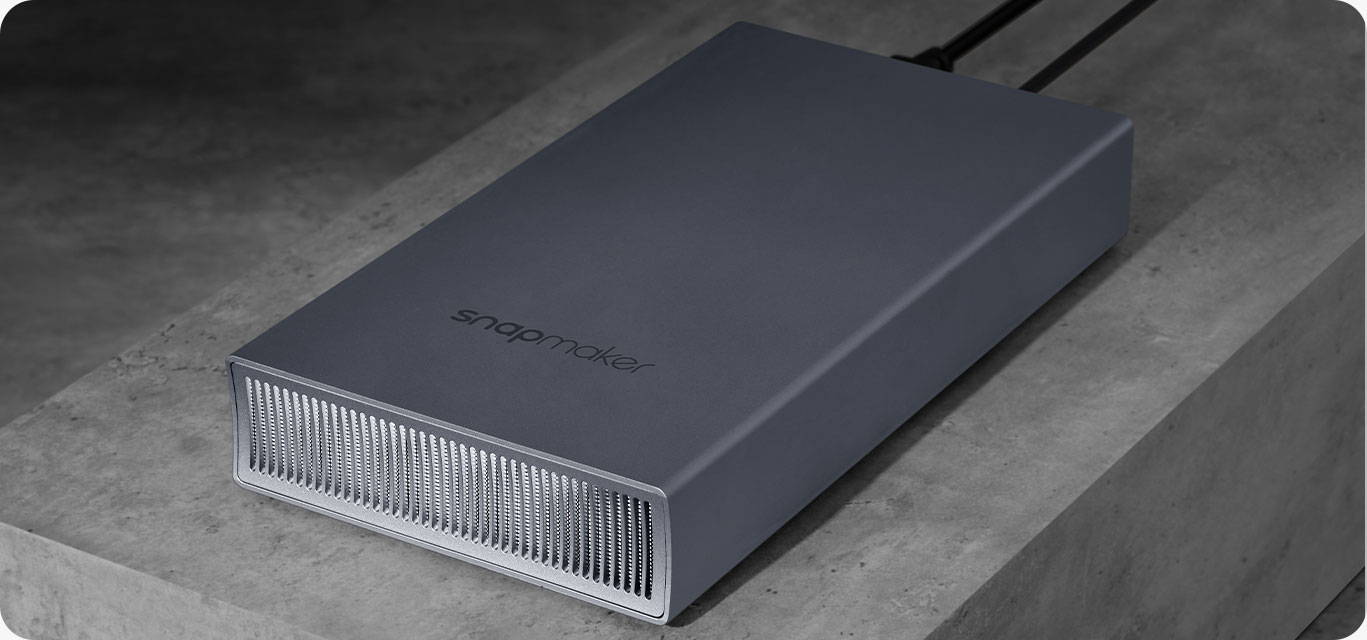 Power Module Improvement
The new Power Module uses a much quieter fan whose speed can be adjusted automatically according to the real-time temperature, realizing a noise level decrease of about 16 dB(A), so that you can truly focus on your making.
Note:
[3] The test result was obtained in Snapmaker laboratory, which may vary according to the testing conditions and product iteration, and is for reference only.
Modular And Expandable

Powerful Controller
The innovational application of the CAN (Controller Area Network) Bus technology on the Controller realizes modularity and guarantees efficient and stable data transmission.
Touchscreen

USB

Power

Heated Bed

Addons
Enclosure

Emergency Stop Button

Air Purifier and More add-ons…
Toolheads
3D Printing Module

Dual Extrusion Module

10W Laser Module and More modules...
Modules & Addons
Just as other members of the Snapmaker 2.0 series, F350 is modular as well. You can always expand it with dedicated modules or add-ons to give it a personal touch.
Newly Launched
10W Laser Module
Upcoming
Dual Extrusion Module
High Quality as Always
All-metal
The all-metal design of the 3D printers has been Snapmaker's signature. F350 is no exception only sturdier for printing large objects.
Well-made
Made of high-performance aluminum alloy and processed with anodic oxidation, F350 features supreme durability and reliability.
High Precision
We pursue quality to offer high precision and accuracy. With F350, we've managed to step it up a notch—producing detailed prints is the least F350 can do.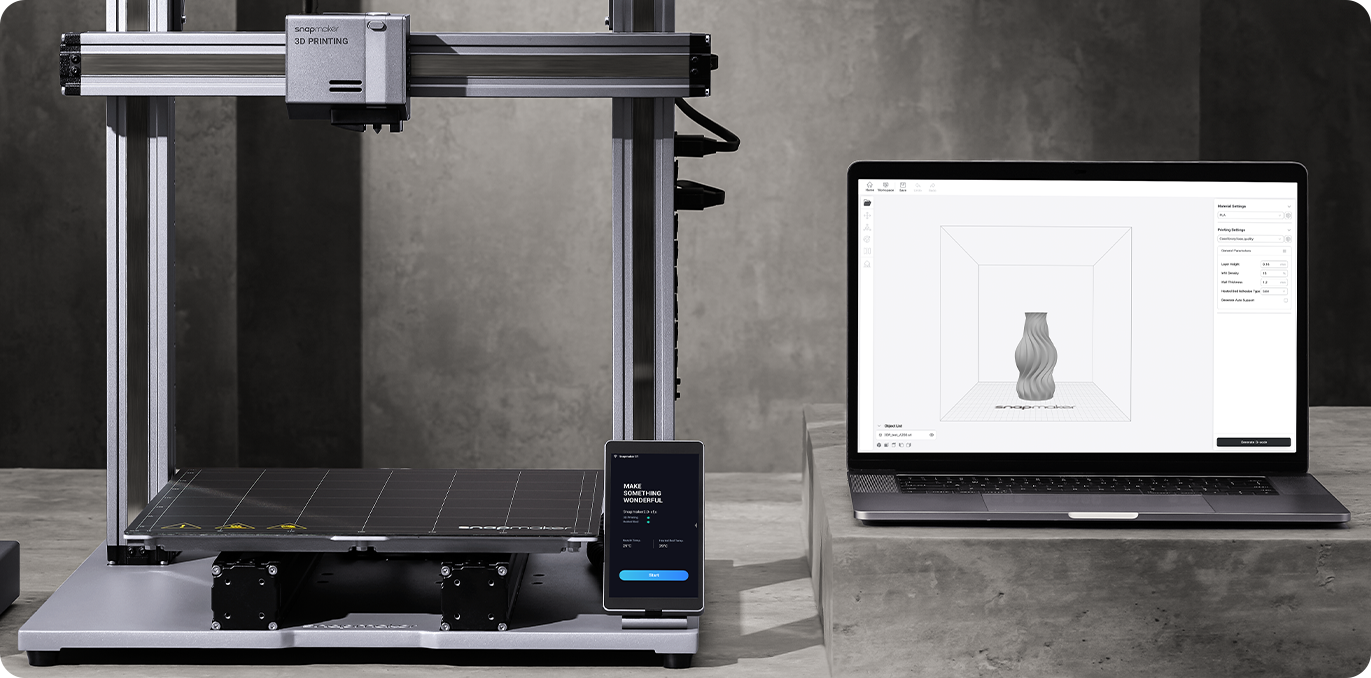 Everything You Need
Custom Software: Snapmaker Luban
Snapmaker Luban is the software tailor-made for both experienced and inexperienced users of Snapmaker machines, complementing your maker journey. And yes, it's for free.
5-inch Touchscreen
The 5-inch Touchscreen is big enough for comfortable operation. Better yet, its intuitive navigation makes for flowing and effective user experience.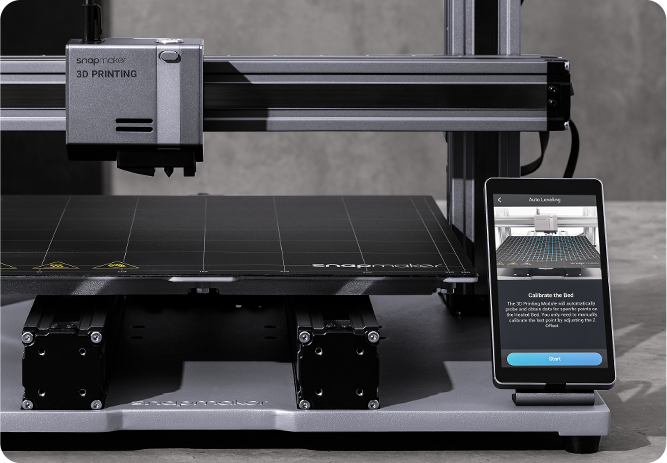 Ease of Use
Auto Leveling
Effortless auto leveling. Just a few taps, and witness all the intelligent work done.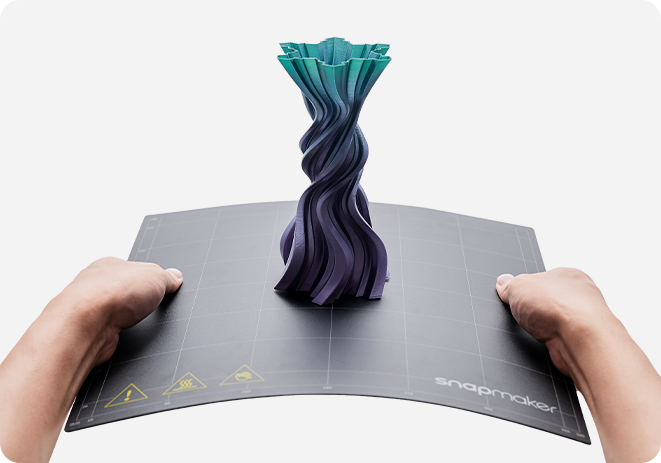 Flexible Print Sheet
Release your print with one single flex.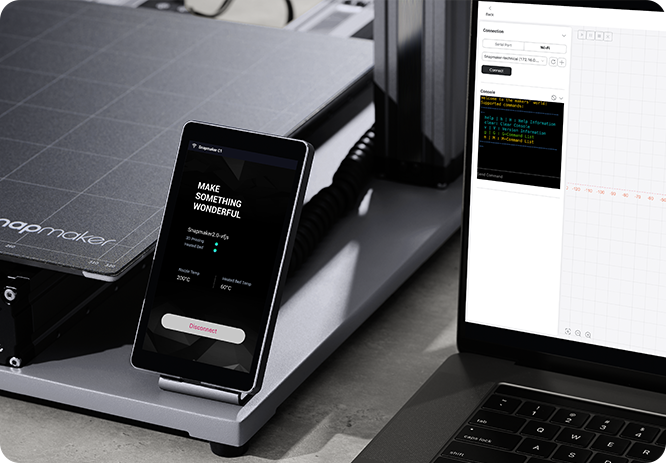 Wi-Fi Connectivity
Unbounding you from USB devices and cables, Wi-Fi connectivity eases your file transfer.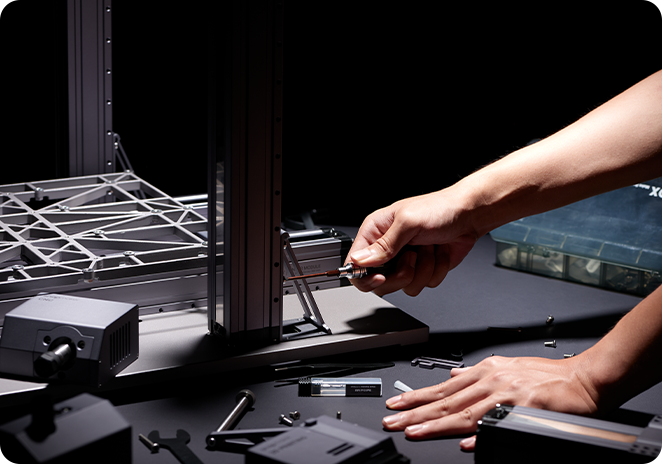 Easy To Assemble
A toy-like assembly procedure: smooth and pleasant.
Smart Recovery
Filament Runout Recovery
Reports the runout and recovers the previous job after you replace the filament.
Power Loss Recovery
You can resume the interrupted printing job after a power loss. 
In the Box
 

3D Printing Module 

×1

Linear Module 

×5

Touchscreen Holder 

×1

Touchscreen 

×1

Z-axis Holder 

×2

Controller 

×1

Power Module 

×1

Converter 

×2

Base Plate 

×1

Support Platform 

×1

Heated Bed 

×1

Print Sheet 

×1

Calibration Card 

×2

Quick Start Guide 

×1

Filament 

×1

USB Cable 

×1

Toolhead Cable 

×1

Y-axis Conversion Cable 

×1

Z-axis Conversion Cable 

×1

DC Power Cable 

×1

AC Power Cable ×2
Filament Holder Sheet ×1
Filament Holder Tube ×1
Tool Box ×1
Warranty of Snapmaker 3D Printers
The Snapmaker Modular 3D Printer F350 is covered by a 1-year limited warranty for customers from Non-EU countries and a 2-year limited warranty for customers from EU countries according to the terms and conditions stated in Snapmaker's Limited Warranty document.
Returns & Refund Policy of Snapmaker 3D Printers
Return & Refund Service will be provided where it is requested within seven (7) calendar days of receiving Snapmaker Modular 3D Printer F350.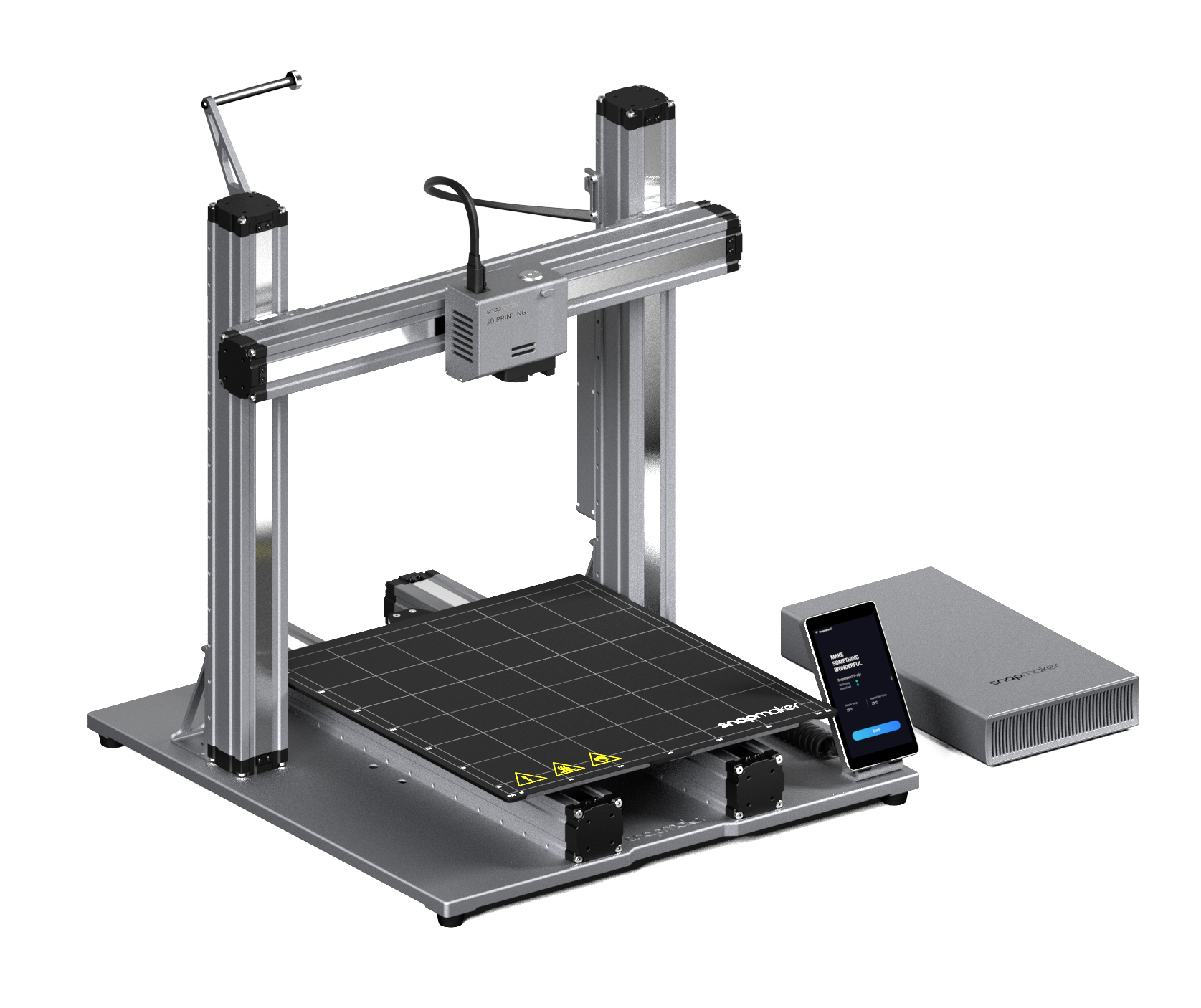 Size Specifications
| | |
| --- | --- |
| Dimensions (W × D × H): | 495 × 506 × 580 mm |
| Work Area (W × D × H): | 320 × 350 × 330 mm |
| Max Heated Bed Temperature: | 80°C |
Tech Specifications
| | |
| --- | --- |
| Layer Resolution: | 50–300 microns |
| Nozzle Diameter: | 0.4 mm |
| Max Nozzle Temperature: | 275°C |
| Supported Materials: | PLA, ABS, PETG, TPU, wood filled PLA, more being tested |
| Frame Material: | Aluminum alloy |
| Data Transmission Methods: | Wi-Fi, USB cable, USB flash drive |
| Touchscreen Specs: | 5 in., Android OS, Quad-core 1.1 GHz ARM Cortex-A7 |
| Supported Software: | Snapmaker Luban or third-party software |
| Supported File Types: | .stl, .obj, more formats to be added |
| Supported OS: | Windows, macOS, Linux |
| Rated Power: | 320 W |
Package Specifications
| | |
| --- | --- |
| Package Dimensions (W × D × H): | 628 × 550× 323mm  |
| Package Weight: | 24.2kg  |
Our goal is to offer you the best shipping options, no matter where you live. Every day, we deliver to hundreds of customers across the world, ensuring that we provide the very highest levels of responsiveness to you at all times.
We try to make the delivery process as simple as possible, and we can send your order either to your home or workplace. Unfortunately, we do not offer deliveries to PO boxes or parcel motels

The time frame for order delivery is divided into two parts:

Processing Time: Order verification, tailoring, quality check, and packaging. All orders are sent to the warehouse for dispatch within 24 hours after the order is placed. The warehouse and the post office process the orders, which takes an additional 2–4 business days.

Shipping Time: This refers to the time it takes for items to be shipped from our warehouse to the destination. National delivery usually takes about 5 business days. After processing and leaving the warehouse, items usually take between 3 and 5 business days to arrive at their destination but sometimes can take longer because of delayed logistics and customs clearings which might impact the delivery time.

Note: Tracking information is available within 1-3 days after ordering. If you received a tracking number that is not working at the time you are trying, please check again within 24 hours before contacting us as it takes time to update in the system. Thank you!

Customers are responsible for providing complete and accurate shipping addresses to 3DCraftMakers. 3DCraftMakers is not able to make changes to your shipping address once a package leaves our warehouse, and 3DCraftMakers is not liable for packages that are lost due to incomplete or inaccurate addresses.

All orders reported as "Delivered" by courier companies are considered delivered. 3DCraftMakers cannot be made liable of non-delivery in this case.

If a delivery fails for any reason and the address the order was sent to, was the correct address as provided by the customer, 3DCraftMakers cannot be held liable if a package is returned to our warehouse.
The order placed by the customer on our website is the order 3DCraftMakers will ship to the customer. We cannot be held liable for the customer receiving a wrong item if they placed the wrong order.
Refund Policy & Privacy Policy
Returns:
We would accept returns if you notify us via email at support@3dcraftmakers.com within 15 days after your package had been delivered (according to the tracking information provided). If 15 days had gone by after your package was delivered, unfortunately, we would not be able to offer you a refund or exchange.
To be eligible for a return, your item must be in the same condition that it was in when you received it. It must also be in the original packaging.
In the rare case that a product becomes faulty or a buyer receives a product with defects, buyers are entitled to request for a product replacement within 30 days of receiving the item. To request a replacement, buyers are required to provide photo/video evidence of the product's manufacturing defects via email at support@3dcraftmakers.com. If the case is deemed valid, we will cover the related cost to deliver a replacement!
**Please also include your invoice number/order number for us to match up your order in the system.
*** Please enclose in the return package your order info and state clearly if you would like a replacement or refund.


The following information is needed to process your request:
1) Your order number
2) The email address used to place the order
3) Reasons for return
Please send the above information to us via email at support@3dcraftmakers.com. You should also enclose it in your returned package for us to match your order. Without the information, we would not be able to identify and process your package.

Refunds (if applicable)
Once your return is received and inspected, we will notify you of the approval or rejection of your refund.
If approved, your refund would be processed, and a credit would be automatically applied to your credit card or original method of payment, you can expect a refund within 1-3 business days. 
Alternatively, the credit can be applied via the form of an electronic gift card of equivalent value.

Late or missing refunds (if applicable)
If you haven't received a refund yet, here are the steps you can take:
Check your bank balance again (transactions may have been delayed).
Contact your credit card company (it may take some time before your refund is officially posted, as it may take up to 3-5 business days for them to process the credit).
Contact your bank (check the processing time before a refund is posted).
 Please contact us via email at support@3dcraftmakers.com should you have further questions.
Replacements (if applicable)
We only replace defective or damaged items. If you need to exchange it for the same item, email us at support@3dcraftmakers.com.
Warranty: 
- If you discover a fault, please contact us immediately including the picture of the packaging of your order with the faulty item & your order confirmation #? (within 3 days of receiving your parcel)
- You will be responsible for paying for your own shipping costs for returning your item. Shipping costs are non-refundable. If you receive a refund, the cost of return shipping will be deducted from your refund. 
- All returns and exchanges must be in brand new, restocking condition and contain all original packaging and accessories to be accepted. 
- Items that have been in contact with any food product cannot be returned. 

- Product damaged through customer abuse or improper handling will not be accepted. 
- Original Shipping charges and Return Delivery charges will not be refunded. 

- Special Orders cannot be returned. 
Once we have received and inspected the returned merchandise, you will be notified via email concerning your refund. If approved, you can expect a refund within 1-3 business days.
What is NOT covered by warranty:
Improper usage, storage, or handling of the item
Using the item in a way that it was not designed for
Damage caused by impact, shock, sand/dust/dirt, dampness, leaking batteries, fire, theft, attempted theft, vandalism, corrosion, frost, flooding, earthquakes, lightning, or other adverse weather conditions
Any accidental or malicious damage
Privacy Policy: 
PRIVACY STATEMENT
SECTION 1 - WHAT DO WE DO WITH YOUR INFORMATION?
When you purchase something from our store, as part of the buying and selling process, we collect the personal information you give us such as your name, address and email address. 
When you browse our store, we also automatically receive your computer's internet protocol (IP) address in order to provide us with information that helps us learn about your browser and operating system. 
Email marketing (if applicable): With your permission, we may send you emails about our store, new products, and other updates. You can unsubscribe anytime at the bottom of our emails.
Text Marketing and notifications:
By subscribing to text notifications you agree to receive recurring automated marketing messages at the phone number provided. Consent is not a condition of purchase. Reply STOP to unsubscribe. HELP for help. Msg & Data rates may apply. More info view Privacy Policy and Tos.
SECTION 2 - CONSENT
How do you get my consent? 
When you provide us with personal information to complete a transaction, verify your credit card, place an order, arrange for a delivery or return a purchase, we imply that you consent to our collecting it and using it for that specific reason only. 
If we ask for your personal information for a secondary reason, like marketing, we will either ask you directly for your expressed consent or provide you with an opportunity to say no.
How do I withdraw my consent? 

If after you opt-in, you change your mind, you may withdraw your consent for us to contact you, for the continued collection, use or disclosure of your information, at any time, by contacting us at support@3dcraftmakers.com.
SECTION 3 - DISCLOSURE
We may disclose your personal information if we are required by law to do so or if you violate our Terms of Service.
SECTION 4 - SHOPIFY
Our store is hosted on Shopify Inc. They provide us with the online e-commerce platform that allows us to sell our products and services to you. 
Your data is stored through Shopify's data storage, databases, and the general Shopify application. They store your data on a secure server behind a firewall.
Payment: 

If you choose a direct payment gateway to complete your purchase, then Shopify stores your credit card data. It is encrypted through the Payment Card Industry Data Security Standard (PCI-DSS). Your purchase transaction data is stored only as long as is necessary to complete your purchase transaction. After that is complete, your purchase transaction information is deleted. 
All direct payment gateways adhere to the standards set by PCI-DSS as managed by the PCI Security Standards Council, which is a joint effort of brands like Visa, MasterCard, American Express and Discover. 
PCI-DSS requirements help ensure the secure handling of credit card information by our store and its service providers. 
For more insight, you may also want to read Shopify's Terms of Service (https://www.shopify.com/legal/terms) or Privacy Statement (https://www.shopify.com/legal/privacy).
SECTION 5 - THIRD-PARTY SERVICES
In general, the third-party providers used by us will only collect, use and disclose your information to the extent necessary to allow them to perform the services they provide to us. 
However, certain third-party service providers, such as payment gateways and other payment transaction processors, have their own privacy policies in respect to the information we are required to provide to them for your purchase-related transactions. 
For these providers, we recommend that you read their privacy policies so you can understand the manner in which your personal information will be handled by these providers. 
In particular, remember that certain providers may be located in or have facilities that are located in a different jurisdiction than either you or us. So if you elect to proceed with a transaction that involves the services of a third-party service provider, then your information may become subject to the laws of the jurisdiction(s) in which that service provider or its facilities are located. 
As an example, if you are located in Canada and your transaction is processed by a payment gateway located in the United States, then your personal information used in completing that transaction may be subject to disclosure under United States legislation, including the Patriot Act. 
Once you leave our store's website or are redirected to a third-party website or application, you are no longer governed by this Privacy Policy or our website's Terms of Service.
Links 
When you click on links on our store, they may direct you away from our site. We are not responsible for the privacy practices of other sites and encourage you to read their privacy statements. 
Google analytics: 
Our store uses Google Analytics to help us learn about who visits our site and what pages are being looked at
SECTION 6 - SECURITY
To protect your personal information, we take reasonable precautions and follow industry best practices to make sure it is not inappropriately lost, misused, accessed, disclosed, altered or destroyed. 
If you provide us with your credit card information, the information is encrypted using secure socket layer technology (SSL) and stored with a AES-256 encryption. Although no method of transmission over the Internet or electronic storage is 100% secure, we follow all PCI-DSS requirements and implement additional generally accepted industry standards.
SECTION 7 - COOKIES
Here is a list of cookies that we use. We've listed them here so you that you can choose if you want to opt-out of cookies or not. 
_session_id, unique token, sessional, Allows Shopify to store information about your session (referrer, landing page, etc). 
_shopify_visit, no data held, Persistent for 30 minutes from the last visit, Used by our website provider's internal stats tracker to record the number of visits 
_shopify_uniq, no data held, expires midnight (relative to the visitor) of the next day, Counts the number of visits to a store by a single customer. 
cart, unique token, persistent for 2 weeks, Stores information about the contents of your cart. 
_secure_session_id, unique token, sessional 
storefront_digest, unique token, indefinite If the shop has a password, this is used to determine if the current visitor has access. 
PREF, persistent for a very short period, Set by Google and tracks who visits the store and from where
SECTION 8 - AGE OF CONSENT
By using this site, you represent that you are at least the age of majority in your state or province of residence, or that you are the age of majority in your state or province of residence and you have given us your consent to allow any of your minor dependents to use this site.
SECTION 9 - CHANGES TO THIS PRIVACY POLICY
We reserve the right to modify this privacy policy at any time, so please review it frequently. Changes and clarifications will take effect immediately upon their posting on the website. If we make material changes to this policy, we will notify you here that it has been updated, so that you are aware of what information we collect, how we use it, and under what circumstances, if any, we use and/or disclose it. 
If our store is acquired or merged with another company, your information may be transferred to the new owners so that we may continue to sell products to you.
QUESTIONS AND CONTACT INFORMATION
If you would like to: access, correct, amend or delete any personal information we have about you, register a complaint, or simply want more information contact our Privacy Compliance Officer at support@3dcraftmakers.com or by mail at Leap Discovery LLC, 3 Germay Dr, Unit 4 Wilmington , Delaware 19804.
Payment & Security
Your payment information is processed securely. We do not store credit card details nor have access to your credit card information.