3D Potter|3D PotterBot 10 XL
Our largest cardinal rail axis printer is the 3D PotterBot 10 XL. It has 30% more printing area than our standard size model and uses our strongest motors, allowing for even more creative designs.
3D Potterbot 10 XL Features
The 10 XL ceramic 3D printer can print vessels up to 28 inches long "(71cm) tall, with 18 pounds of clay extruded at a time. It is built with extremely long-lasting materials. 
The 10 XL has the largest extruder of any of our printers, allowing you to print the most clay while requiring the least amount of tube reloading. You can print dozens of objects with a 4000ml and still have clay left over.
Note: Complete control via a web interface enabled, with no apps or software to install. There are non-WiFi versions available; please contact us if you require this type of connection (Ethernet connection).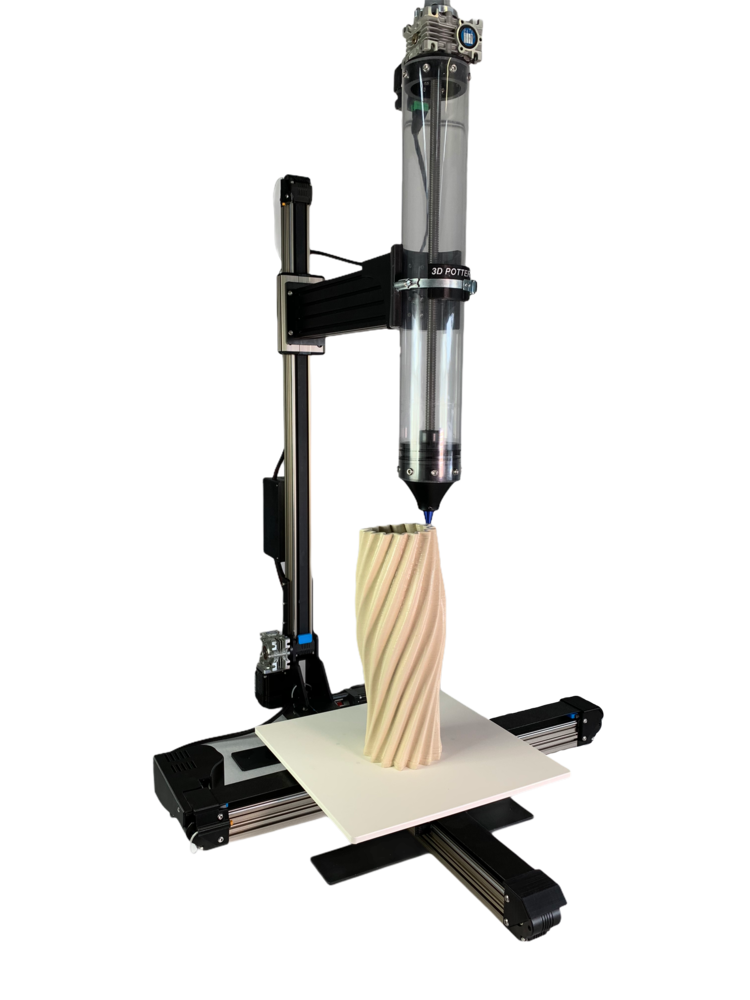 3D Potter Ceramic Printers
High-quality anodized aluminum rails are used in 3D Potter printers. These rails are strong and have a smooth surface, allowing for easy movement of parts while withstanding classroom or industrial environments.
The direct extrusion of real clay is a distinguishing feature of our 3D ceramic printers. Other brands rely on a compressed air system to print slips (watered down clay or alcohol diluted clay). 
The benefit of direct extrusion is that it can be used to 3D print full-body clay or other paste-like materials. Because all of the materials used to construct our clay printers are food-grade, you can get creative.
We are constantly improving our designs. The tenth generation adds a new wireless feature, a full web interface controlled via WiFi. Multiple devices can now control and upload files to the printer at the same time. The interface gives you complete control over the machine's settings. 
The 10th generation printers feature a new uniform nozzle design for improved performance across the board. This allows you to swap nozzles between our 3D clay printers, from the Micro to the Scara V4.
What's in the Box of 3D PotterBot 10 XL
3D PotterBot 10 XL

Closed-loop stepper on X, Y, Z, extruder

3600ml or 4000ml extruder, 2 tubes 

4 anodized aluminum nozzles (standard sizes: 3, 4, 5, and 6mm)

Parts Box: Alan key set, grease, Acme driver tool, tie wraps, extra screws

Power Supply

Wall mount bracket
Warranty of 3D Potter Printers
3D Potter offers a 1-year warranty on parts excluding consumables, ACME screw, and tubes. 
We don't cover damage from: electrical surges or USB port surges, lack of cleaning and/or lubrication, the touch screen caused either by excessive force or corruption of the firmware or damage from disassembling the extruder before unloading the pressure off of the clay. 
Technical Specifications of 3D PotterBot 10 XL
Printing Envelope:
X-19.3" (490 mm)

Y-19.3" (490 mm) 

Z-28" (710 mm)
| | |
| --- | --- |
| 3D Printer size | W-32" L-40" H-47" |
| Normal operation space needed 3600ml | W-32" L-40" H-78" |
| Normal operation space needed 4000ml | W-32" L-40" H-85" |
| Maximum operation space needed | W-35" L-42" H-89" |
| Bat diameter (printer bed) | 15x15in" (381x381mm) |
| Height to the top of the extruder  | fully extended is 89" (2260mm) |
| Weight with extruder | 60 lbs. |
| Recommended print speed | 1.1"/s' to 7.9''/s (30 to 200 mm/s) |
| Maximum print speed | 7.9in"/s (200mm/s)  |
| Power Supply | Output - 24V 10 amps, Input - 100-240V, 50-60 Hertz. |
| Power consumption | 24V ~6 amps, ~144 Watt |
| Main controller board running Duet3D with Atmel SAM4E8E | 120MHz ARM Cortex-M4   |
| Warranty | 1-year on parts |
Payment & Security
Your payment information is processed securely. We do not store credit card details nor have access to your credit card information.