Description

Specifications
Zortrax Apoller is a Smart Vapor Smoothing device!
Main Features of Zortrax Apoller
Post-processing Automation
The Zortrax Apoller is a desktop smart vapor smoothing system with industrial-grade efficiency. To bring the appearance of FDM 3D printed models up to par with injection-molded products, proprietary algorithms manage every aspect of the smoothing process.
User-friendliness and Speed
The fully automated smoothing process is simple to set up and takes about 3 hours to complete.
The SVS technology
SVS is a Zortrax-developed technology for automatic vapor smoothing.
Quality that is consistent
Models are smoothed uniformly every time, regardless of their scale or geometry.
Certified Safety
The Apoller has an EU ATEX protection certificate.
Wide Compatibility
Acetone and MEK can be used to smooth models created on any FDM/FFF 3D printer using ABS, HIPS, or ASA-based filament.
How proprietary SVS technology removes visible layering
Smart Vapor Smoothing (SVS) technology smoothes surfaces uniformly on all types of models, including those with complex geometries and interlocked movable sections. It is accomplished by automatic control of the temperature, pressure, and concentration of solvent vapors in the smoothing chamber of the Apoller.
Compatible with all FDM/FFF 3D printers
Models printed on all FDM, FFF, LPD, and LPD Plus 3D printers can be smoothed with Zortrax Apoller. Regardless of manufacturer, the unit is compatible with ABS, HIPS, and ASA filaments. Just remember to use only pure acetone or pure MEK as solvents.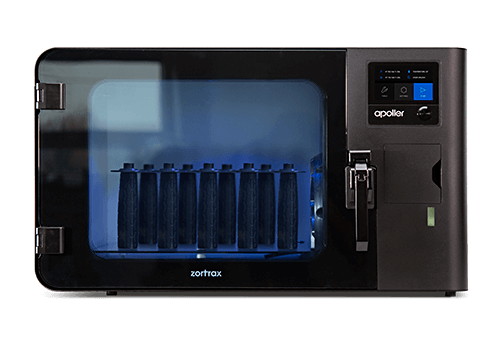 A flexible manufacturing plant
3D printing farms can handle low to medium scale output more cost-effectively by bringing it in-house and allowing for on-the-fly changes. They can now sell products with the same consistency as injection molding, thanks to Apoller post-processing machines.
Resolving the issue of small-scale development
Contracting foreign suppliers, almost no space for modifications, and high cost per unit are among the major problems with low-scale production because economies of scale have yet to be realized to drive prices down. When large resources are invested in the development of injection molds for a new product, a company is essentially all-in.
Smart Vapor Smoothing Technology
Automated vapor smoothing is easy and safe enough for untrained personnel to perform.
1st Step: Print
Print the models on any 3D printer that supports FDM, FFF, or LPD.
Step 2: Smooth
Place the models in the room, close the door, and use a touch screen to adjust the smoothing settings.
Step 3: Have fun!
The Apoller handles everything else on its own. Models are smoothed and ready to use after 3 hours.
Vacuum System
Also after the solvent has been vaporized, the vacuum system in Zortrax Apoller prevents the pressure inside the smoothing chamber from exceeding the pressure outside of it. That is why the vapors are held within the chamber rather than being forced out.
Advanced vapors' circulation and condensation system
To uniformly cover the templates, the vapors in the Zortrax Apoller smoothing chamber are distributed upward. To retain their form, fragile and intricate details are covered with less solvent. If completed, the condensation mechanism recovers the excess solvent, which can be reused.
Advanced Safety System
Zortrax Apoller provides industrial-class durability due to redundancy carefully built into the device. The system is double-sealed against the outside world. 
The pressure inside the smoothing chamber is often held lower than the pressure in the room. Aside from double seals, there is another degree of redundancy in the safety system that prevents gases from exiting the smoothing chamber. 
It also holds the chamber closed even when the power goes out, allowing the electromagnetic lock to fail. When the power is restored, Zortrax Apoller decontaminates the chamber before allowing anyone to open it.
ATEX Certification 
Safety systems are certified to meet the stringent requirements of the ATEX 2014/34/EU Directive, which governs equipment intended for use in explosive atmospheres.
Per unit needs an annual inspection at Zortrax HQ to maintain the EU ATEX certification and ensure the device's safe operation.
Zortrax Apoller Shield
A service schedule that includes post-warranty checks to ensure proper system maintenance. Maintain the dependability and condition of your Zortrax Apoller at all stages of your ventures. The plan includes skilled maintenance done by a technician at Zortrax headquarters, as well as free door-to-door delivery (customs duties excluded).
What's in the Box of Zortrax Apoller
Apoller Device

Starter Kit
Warranty of Zortrax Apoller
Zortrax provides a warranty for each brand-new device purchased from Zortrax Authorized Reseller or Zortrax by the end-use purchaser and properly documented with proof of purchase for a period of twelve (12) months from the date of the original retail purchase.
Before submitting a warranty claim, first, you should refer to free technical support materials available at http://support.zortrax.com/.
Technical Specifications of Zortrax Apoller
Device Specifications
| | |
| --- | --- |
| Build volume | 300 x 250 x 250 mm (11.8 x 9.8 x 9.8 in) |
| Connectivity | Wi-Fi, Ethernet, USB |
| Operating system | Android |
| Processor | Quad Core |
| Solvent compatibility | Pure Acetone or pure MEK only* |
| Zortrax compatible materials | Z-ABS, Z-ULTRAT, Z-ULTRAT Plus, Z-ASA Pro, Z-HIPS |
| External compatible materials | ABS, ASA, HIPS |
| Warranty | 1-year |
Process Specifications
| | |
| --- | --- |
| Maximum working temperature | 90° C (194° F) |
| Minimum working temperature | -20° C (-4° F) |
| Minimum gauge working pressure | -0.6 bar |
| Ambient operation temperature | 15-30° C (59-86° F) |
| Storage temperature | 0-35° C (32-95° F) |
Electrical Specifications
| | |
| --- | --- |
| AC input | 110 V ~ 13.6 A 50/60 Hz ; 240 V ~ 6.3 A 50/60 Hz |
| Power supply parameters | 24 V DC @ 21 A, 500 W |
| Maximum power consumption | 1500 W |
Payment & Security
Your payment information is processed securely. We do not store credit card details nor have access to your credit card information.