Description

Specifications
Flashforge Hunter is an innovative digital 3D printer that uses Texas Instruments DLP® technology and incorporates the most recent additive manufacturing technology. 
Hunter's super low-resolution print settings, which go all the way down to 12.5um, allow users to obtain amazing print quality. This is superior to any current filament-based 3D printer on the market today. 
Hunter includes a long-lasting metal resin tray with pre-installed vat film that can accommodate a wide range of resin types. As a result, you can print and replenish resin in less time. 
Hunter can help you take your 3D printing to the next level!
Main Features of Flashforge Guider 2s
Light engine with Full HD 1080p resolution
Dual-core 800mhz ARM processor for lightning-fast performance
A linear motion guide actuator is used to achieve a smoother printing surface.
The aluminum resin vat is easily detachable and comes with vat film already fitted.
Build plate that does not require calibration and is easy to change
LCD touch screen for simple navigation
Jewelry support mode offers more adaptable support structures.
Printing options that are simple to use with resin presets
For high-detail prints, a grayscale and distortion correction algorithm is used.
Multiple resin kinds are supported (FH1100, FH1200, FH1400 & Detax Luxaprint 3D shell)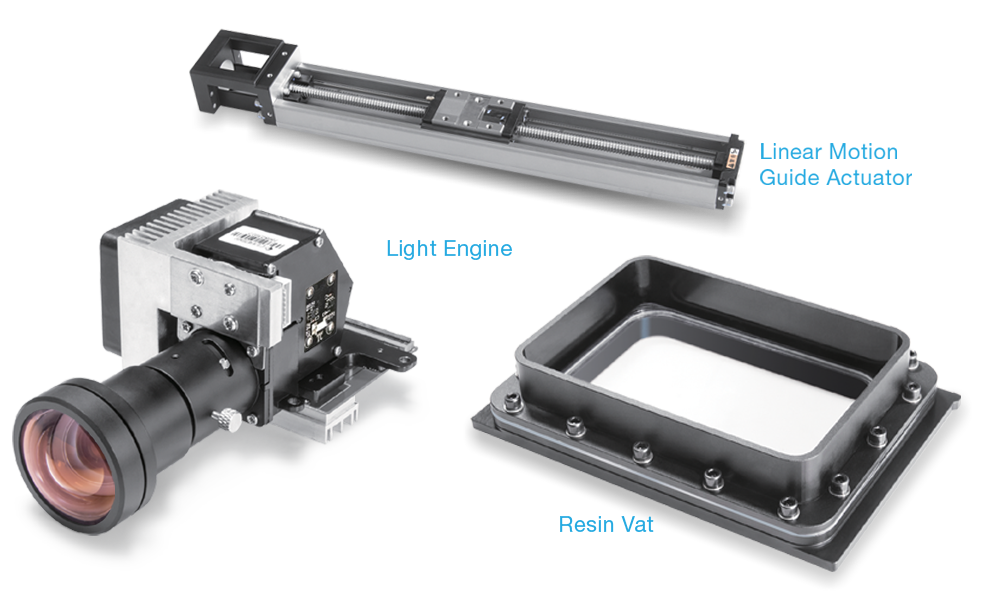 Flashforge Hunter Professional DLP Resin 3D Printer
Light Intensity Control
The unique closed-loop feedback light intensity control system ensures sustained and stable LED intensity, enabling stronger stability and finer print details.
Light Engine
Proprietary light engine with FHD 1080p resolution and 50,000 hours life span.
Linear Motion Guide Actuator
The Industrial Z axis LM guide actuator module enables an accuracy of a micron, achieving a smoother printing surface.
Aluminum Resin Vat FEP Vat Film – Long Service Life Easy Replacement
Easily dismount resin vat for the change of material to ensure little material waste. Durable aluminum resin vat requires no maintenance. The long service life FEP vat film can be easily replaced and thus low acquisition cost.
Build Plate – Durable No Calibration Quick Replacement
The build plate can be replaced quickly and there is no need for calibration. That is faster printing speed and easier to do post-treatment.
Touch Screen
Simple and intuitive user interface that is super easy to use.
Flashforge Hunter 3D Printer Resins
The unique closed-loop feedback light intensity control system ensures sustained and stable LED intensity, enabling stronger stability and finer print details.
JEWELRY SOLUTION
Many jewelry prints can be easily made at the same time. And they match the design, reduce the time for manual publishing and avoid hand-making defects.
Hunter is mainly used to print the first version, a small lot of Jewelry. Then the first version can make a wax plates for casting or a silver plates. The small-lot prints are directly put into the casting process.
Mode of Jewelry Support
Support mode catered for jewelry and accessories. Advanced options for more adaptable support structures
DIGITAL DENTISTRY SOLUTION
Flashforge Hunter DLP 3D printer is a high-precision 3D printer for dental users. Its speed, accuracy, and low operating costs make it a perfect choice for denture manufacturers, dental laboratories, and clinical use.
The Economical Printing Choice
Compatible with various resin, providing more application options
Shorten working hours:

Improve more than 50% production efficiency

Compatible with multiple third party materials:

Providing a rich printing experience

High precision:

showing more details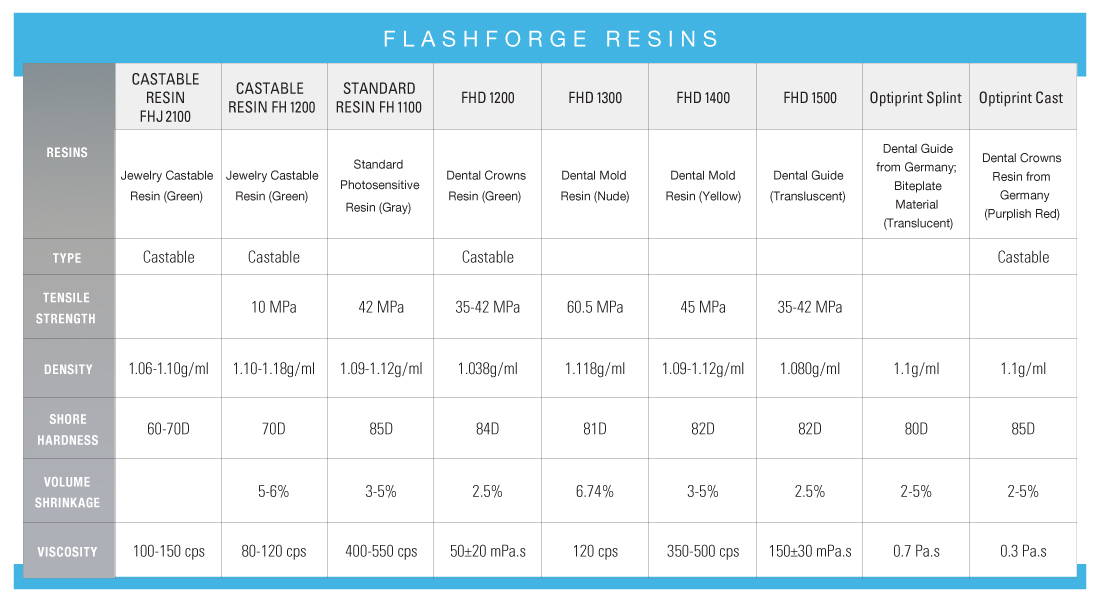 What's in the box
Flashforge Hunter printer

Vat film

Vinyl gloves

Brush

Metal scraper

Plastic scraper

Rinse bucket

Soft cloth

500ml of photopolymer resin

Accessories kits

Spare screw kits 

Power Cable and adapter

USB Cable

Quick Start Guide

After-sales service card
Warranty of Flashforge
Flashforge 3D printers have a one-year warranty. 
Technical Specifications of Flashforge Hunter
| | |
| --- | --- |
| Assembly | Fully-assembled |
| Bed leveling | Manual (assisted) |
| Compatible with 3rd party filaments? | No, a closed material system |
| Connectivity | WIFI, USB cable, Flash Drive |
| Display | LCD touch screen |
| Firmware | Closed-source |
| Manufacturer | FlashForge |
| Manufacturer country | China |
| Operating system(s) | Mac OS XWindows |
| Optical system | 405 nm LED |
| Outer dimensions millimeters (xyz) | 360 x 309 x 614 mm |
| Printable material(s) | FH1100 Castable ResinFH1200 Standard ResinFH1400 Tough Resin |
| Printer type | Resin |
| Slicing | FlashPrint |
| Weight kg | 17.7 kg |
| Build volume | 120 x 67.5 x 150 mm |
| Layer height | 25 – 50 Microns |
| Technology | DLP (Digital Light Processing) |
| Warranty | 1-year |
Payment & Security
Your payment information is processed securely. We do not store credit card details nor have access to your credit card information.