Snapmaker J1/J1S High Speed Idex 3D Printer
Introducing the Snapmaker J1/J1S High-Speed IDEX 3D Printer, a cutting-edge solution that redefines the world of multi-material 3D printing. With its independent dual extruder (IDEX) technology, ultra-fast print speed, and vibration compensation, the J1/J1S sets new standards in versatility, speed, and precision. Crafted with cast and machined parts, supported by linear rails, and featuring intuitive software, this printer ensures a refined and solid printing experience.
Effortlessly create intricate designs with breakaway and dissolvable supports, while enjoying the convenience of up to 10,000 mm/s² acceleration and 350 mm/s printing speed. Explore Copy Mode and Mirror Mode to double productivity and unlock new possibilities in your maker journey. The Snapmaker J1/J1S comes equipped with a 300°C hot end, 100°C heated bed, and a print volume of 300 × 200 × 200 mm³, providing ample space for your creative projects. Prepare to embark on an exciting 3D printing adventure, backed by a one-year warranty for peace of mind.
Key Features of the Snapmaker J1/J1S High Speed Idex 3D Printer
Snapmaker J1/J1S High-Speed IDEX 3D Printer
Independent Dual Extruder (IDEX) for multi-material printing
Ultra-fast print speed and vibration compensation for improved stability
Cast and machined parts, linear rails for a refined and solid build
Breakaway and dissolvable supports for easy removal
Up to 10,000 mm/s² acceleration and up to 350 mm/s printing speed
Copy Mode and Mirror Mode to double productivity
300°C hot ends & 100°C heated bed
Print volume of 300 × 200 × 200 mm³
Easy-swap hot ends with multi-diameters
Double-sided PEI Glass Plate for optimal adhesion
5-inch Intuitive Touchscreen and built-in nozzle wipers
J1S model includes Print Cooling Fan and Breakaway Support for PLA
Pre-installed doors and side panels for easy setup
Direct drive 3D printer for enhanced performance
One-year warranty included.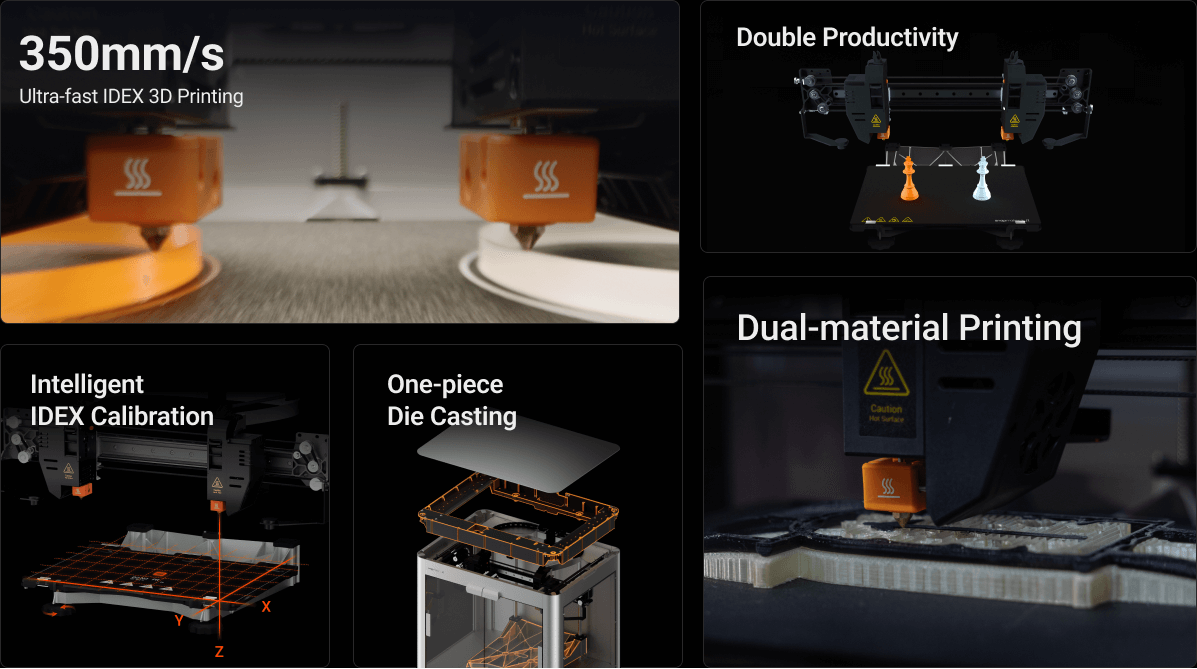 Fast and Forward.
Max. Speed
350 mm/s 

Max. Acceleration
10,000 mm/s2
Advanced Control Algorithm Enhances Speed

J1s achieves 350 mm/s printing speed and high resolution through optimized vibration compensation, reducing movement vibrations and print quality issues. Acceleration up to 10,000 mm/s² ensures efficient detailed prints.

Effortless Extruder Switching

Dual extrusion sees non-working extruder preheating on standby, minimizing wait time by immediate printing once the working extruder departs.
Speed Ensured by Elaborate
Hardware Design.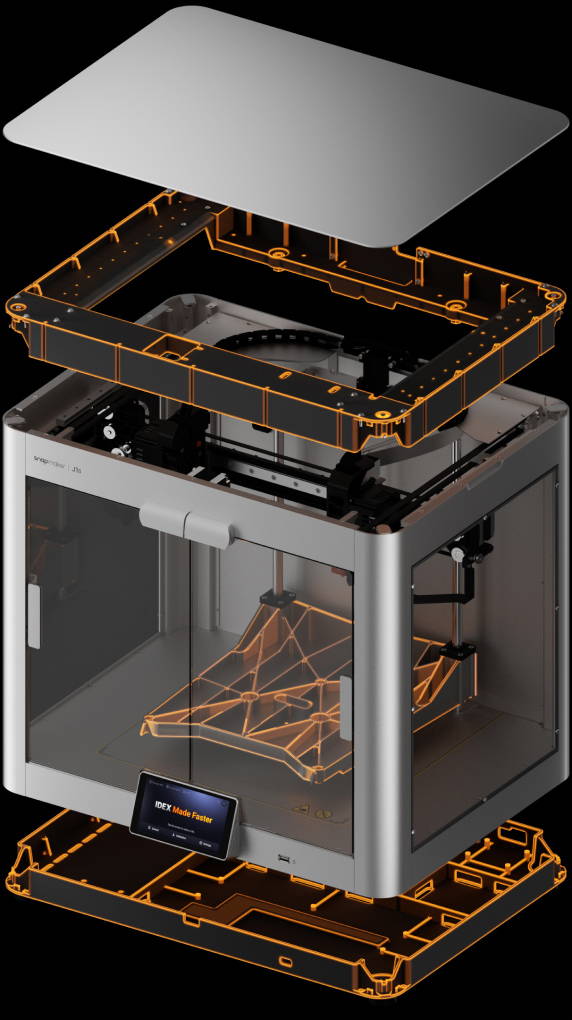 One-piece Die Casting

J1s body consists of an upper frame, one-piece die-cast base, and four aluminum alloy bars. Mimicking the automotive industry's approach, this integrated design ensures precise assembly.

J1s offers exceptional rigidity and reliability, minimizing wobble and deformation. Print large projects consecutively, maintaining uncompromised quality.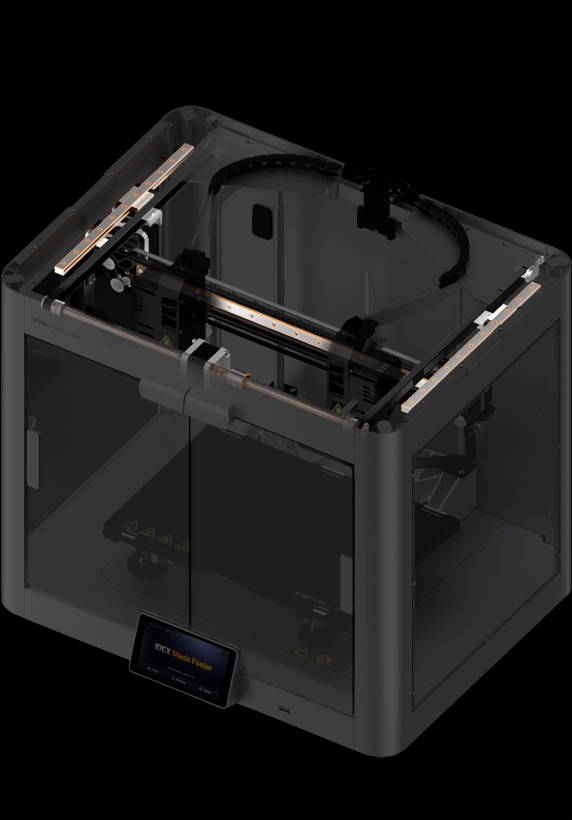 High-precision
Linear Rails
The industrial-grade linear rails are made by CNC grinding at the micron level, ensuring smooth and steady movements. A significant rise in precision, rigidity, and durability for you to savor a fast, accurate, and steady-making experience.

Repeatability[1]
±0.03 mm (X/Y)
±0.02 mm (Z)

Expected Lifespan[2]
Over 10 Years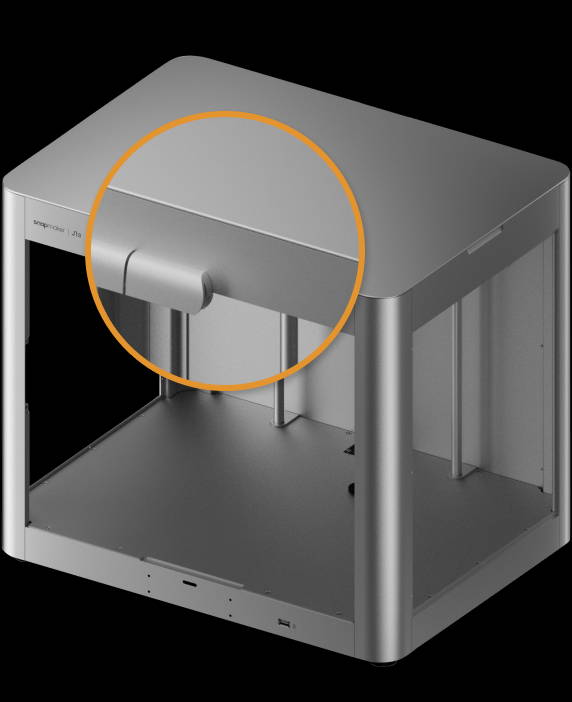 Aluminum Alloy
Frame
J1s retains Snapmaker's cherished all-metal design, valued for rigidity and durability. Enhanced heat dissipation, main board, power supply on base, aluminum alloy for better performance. Electronics well-maintained, ready for your use.
Strong Print Cooling System
J1s boasts robust print cooling with fans under nozzles and rear panel. Wide area coverage via narrow fan duct aids high-speed print cooling and reduces ambient temperature for materials like PLA.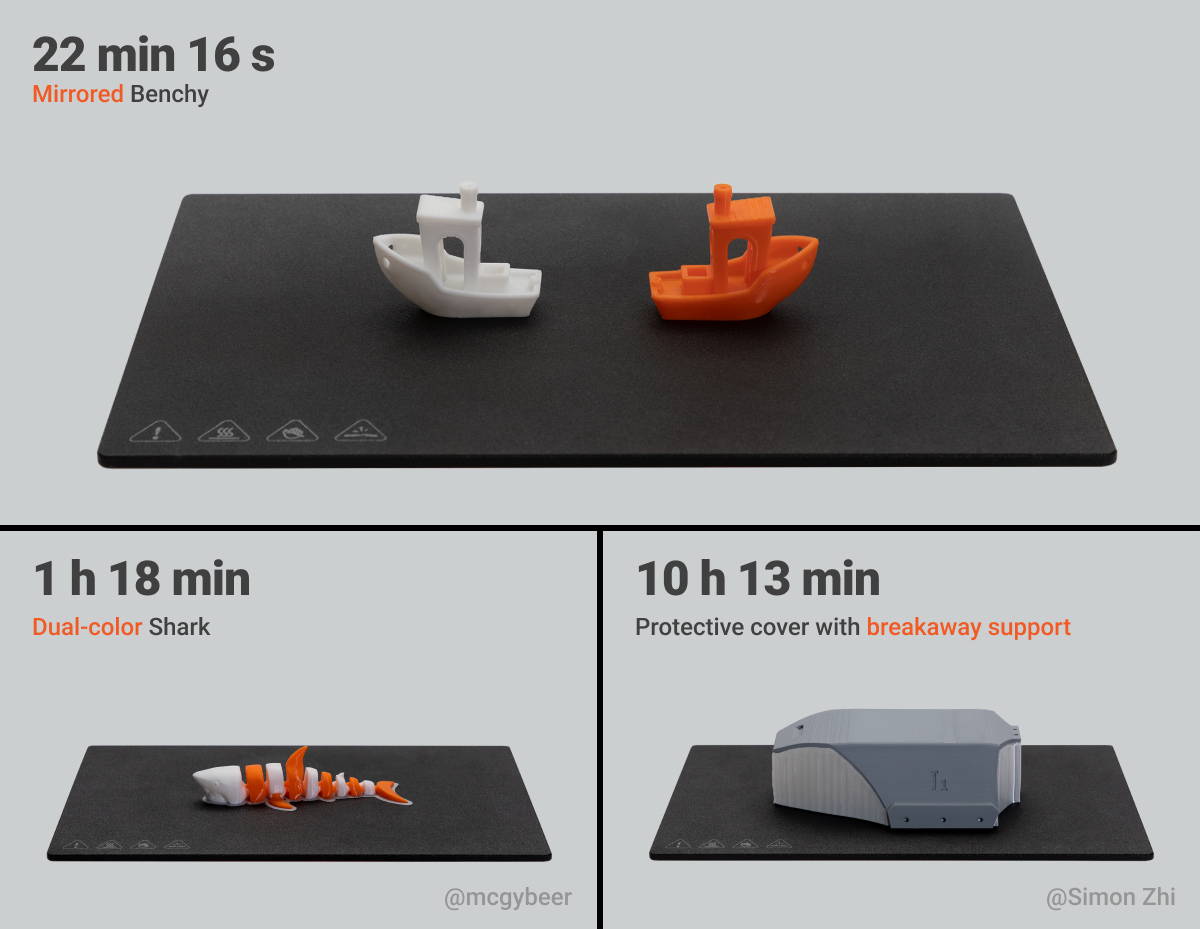 Infinite Possibilities with IDEX.
IDEXcel in Dual-material Printing.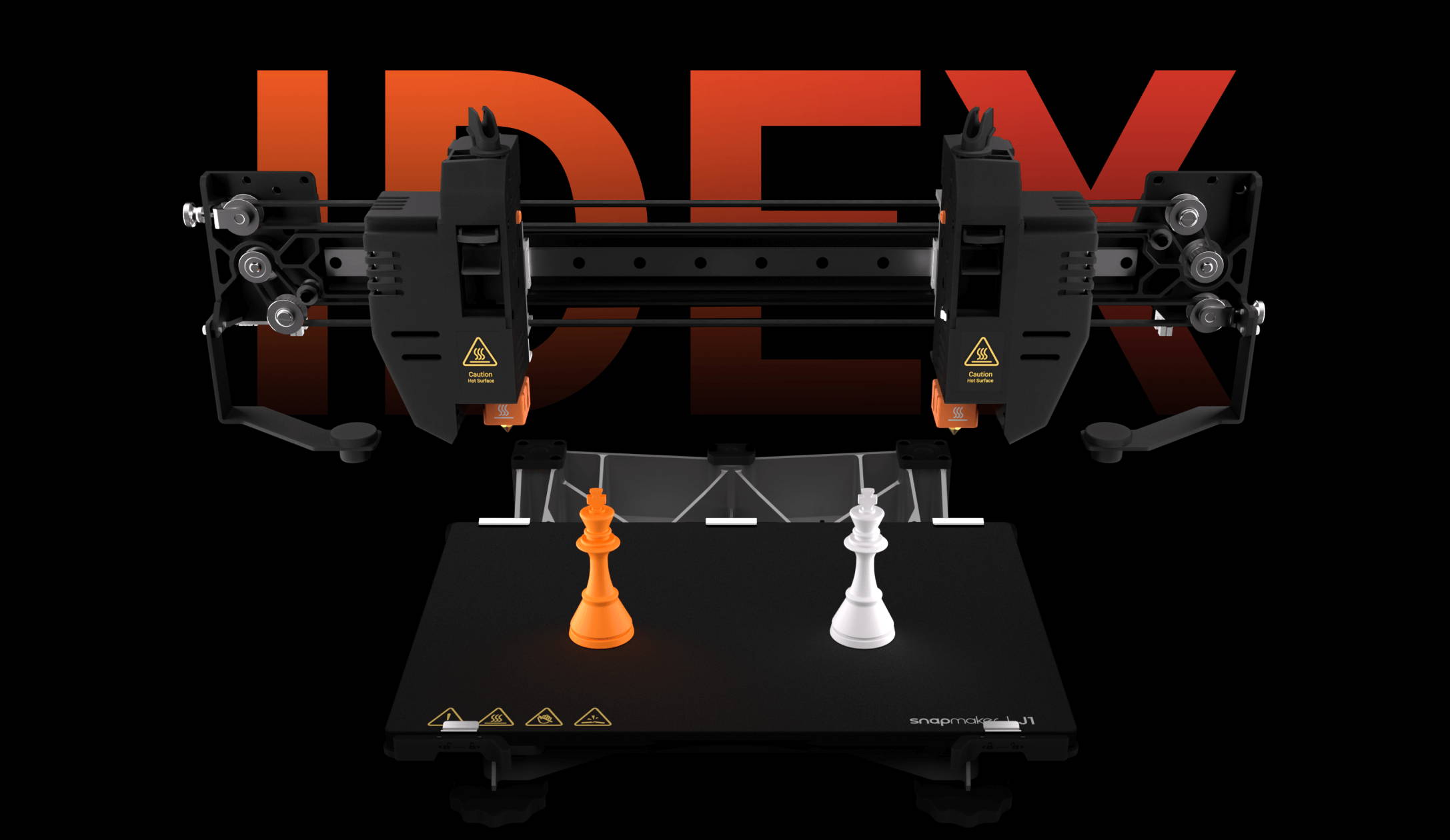 IDEX dual-material printing in J1s surpasses multi-material units with faster filament changes and reduced waste. The cleanest solution to prevent cross-contamination, IDEX ensures a clear interface between materials, effortless removal, and seamless finishes.

Streamlined Support Removal

Simplify support removal with steady support, clean interface, easy removal, and minimal post-processing for precise dimensions. See your model true to form, no compromise.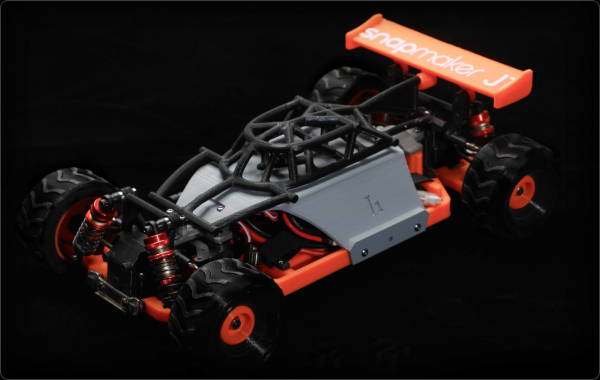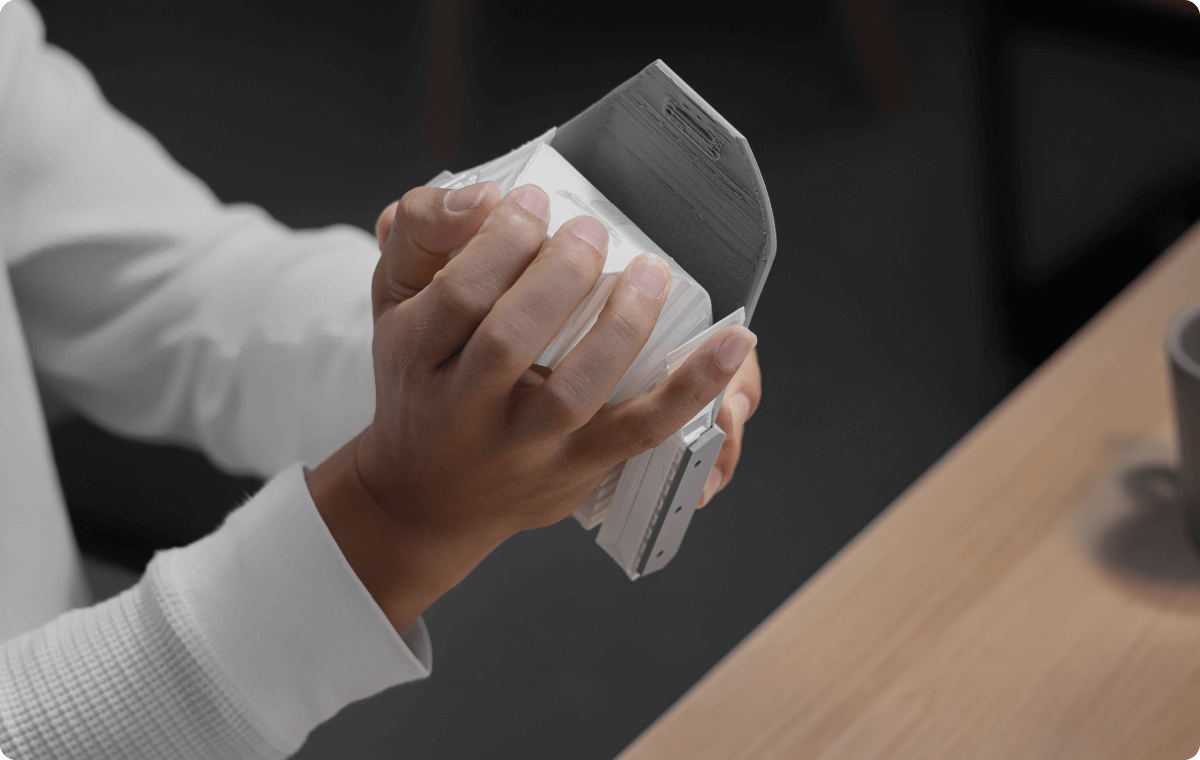 Support Innovation

Breakaway Support: Functions like standard materials but easier to remove, no additional post-processing required.

Dissolvable Support: J1s supports PVA and dissolvable materials. Soak for smooth surfaces, precise dimensions, ideal for intricate geometry and details.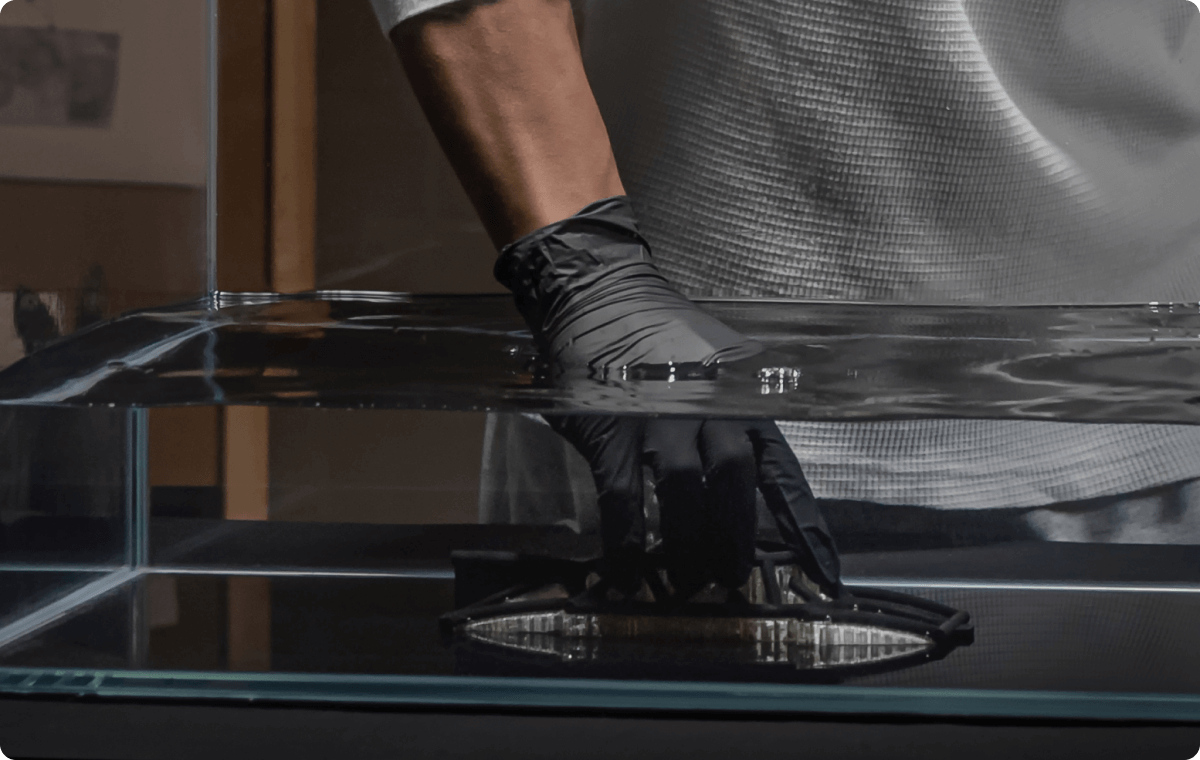 1 + 1 > 2
Dual-Material Printing
Maximize properties in one print. Nylon's strength + TPU's flexibility = durable functional parts. Print multi-part objects as one, enhancing interconnections for greater resilience without assembly.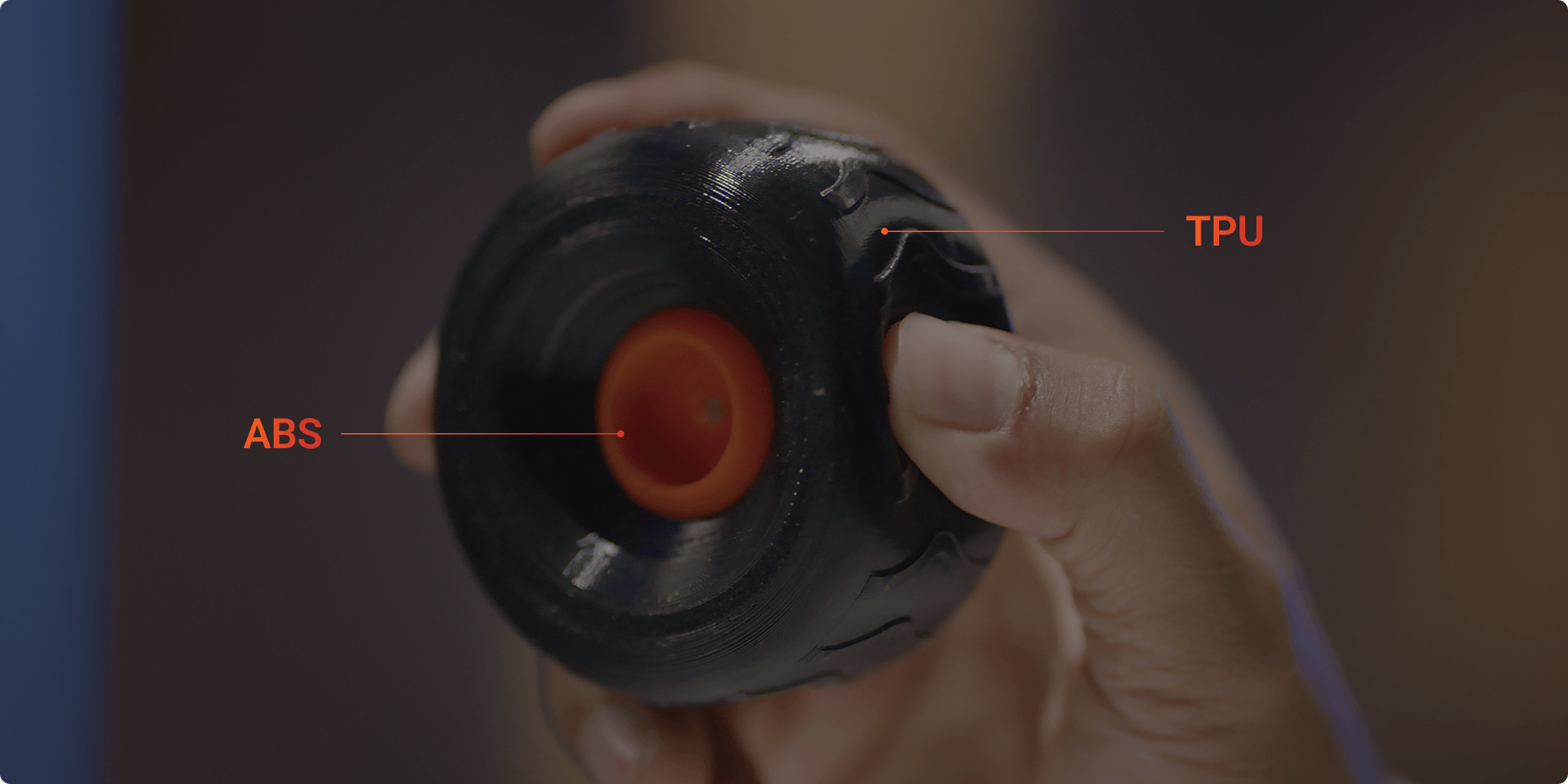 Bicolor Prints. Add a splash of personality to your concept models, miniatures, party essentials, gift items, and home decor.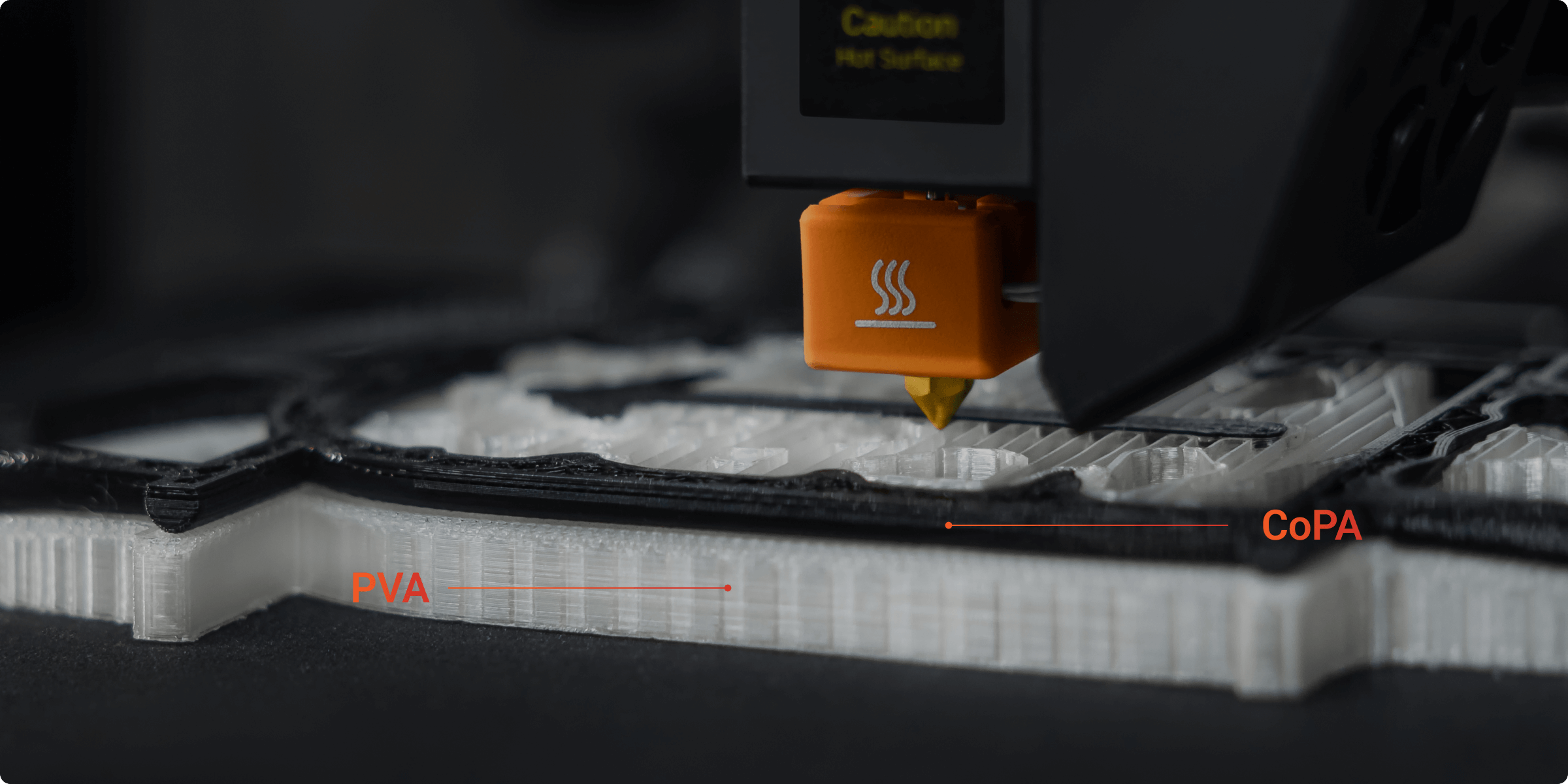 Use different materials on the walls and the infill. By printing infill with economical materials plus a large-diameter nozzle, you can now spend most of your time and money budget on working the exterior to perfection.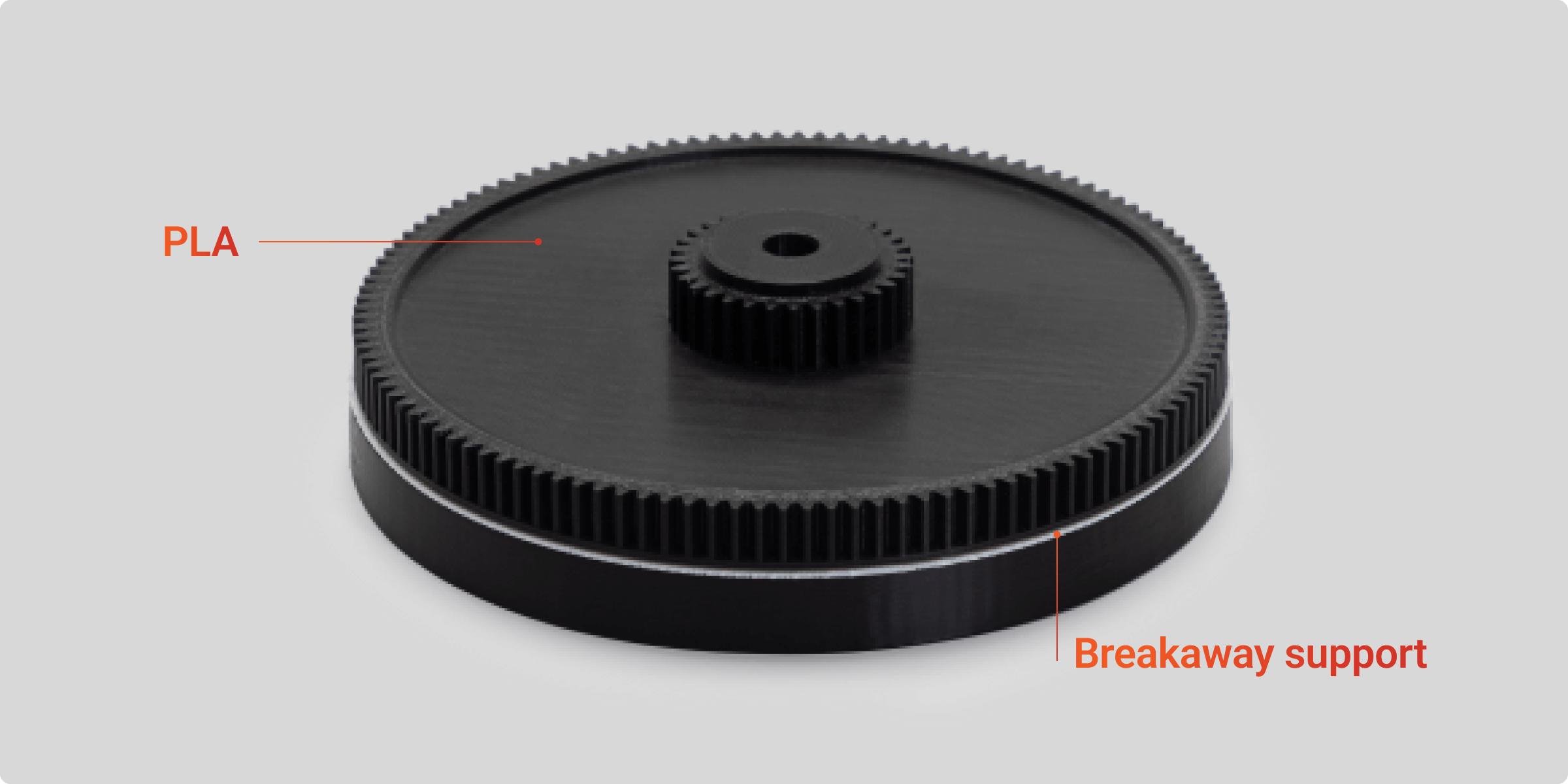 Print in Parallel.
Halve your wait time, double your productivity. IDEX is the only extrusion system with two separate extruders moving independently on the X-axis, enabling you to run two prints simultaneously.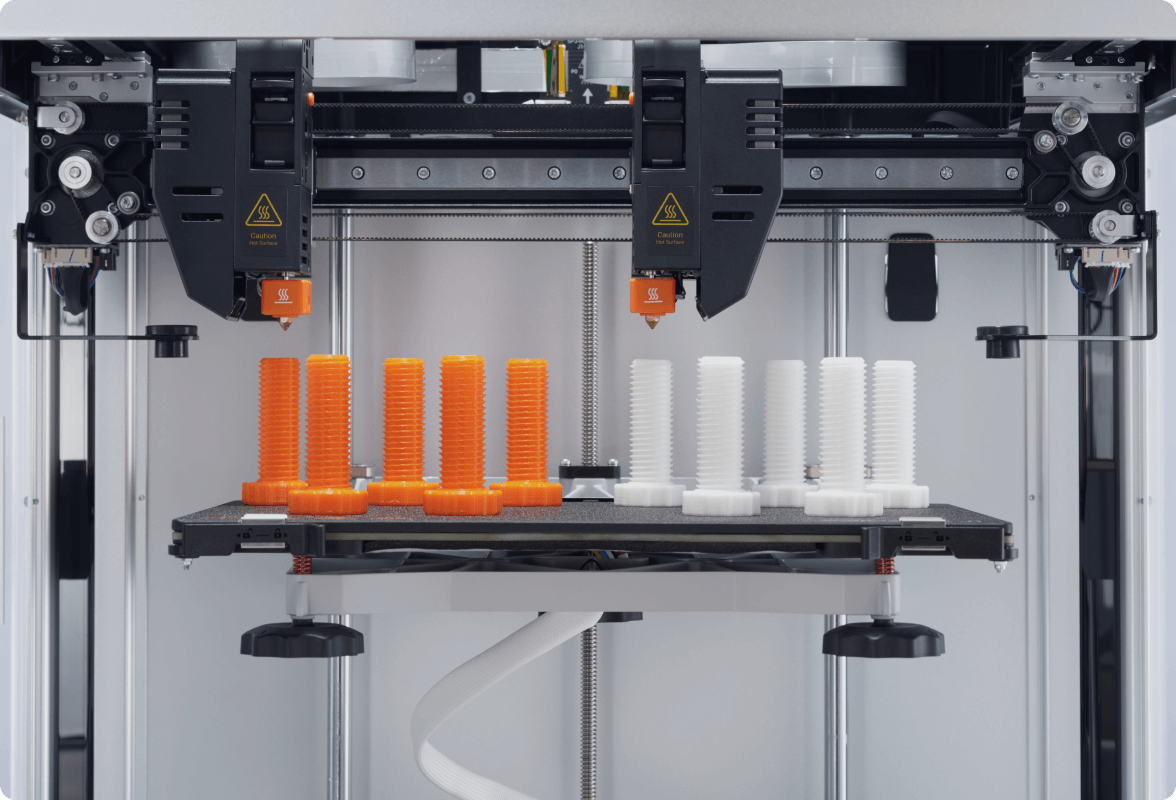 Copy Mode
Print two identical objects simultaneously, ideal for batch printing, ensuring progress even if issues arise, suitable for tight schedules.
Mirror Mode
J1s mirrors your model, printing both original and mirrored simultaneously. Efficient for symmetrical models, halves wait time, great for drafts and concepts. Like Copy Mode, one print stop doesn't affect the other.
Backup Mode
Print with one extruder while the other stands by. If a hiccup occurs, standby extruder takes over seamlessly, delivering quality prints under Backup Mode.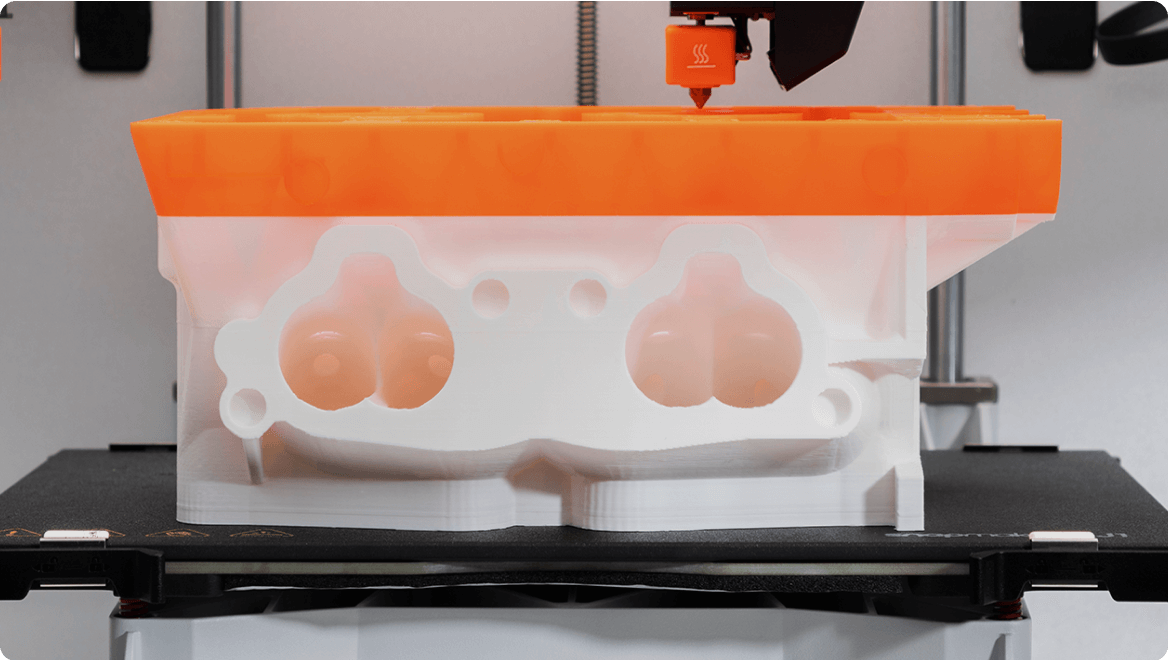 Elevated Performance for Experts.
Redesigned extruders excel with demanding materials, ensuring consistent, superior performance. Achieve top-notch, engineering-grade projects effortlessly.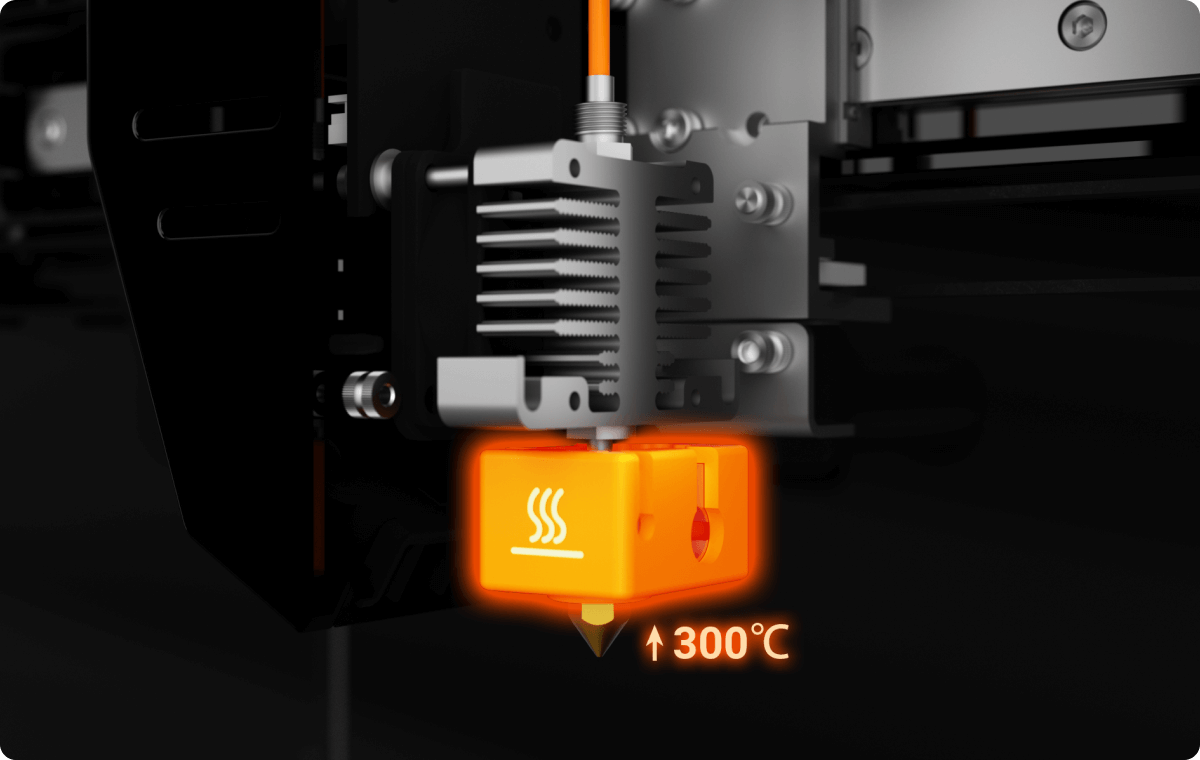 300°C Hot Ends

Print high-temp filaments (nylon, PC) with max 300°C nozzle temp. Silicone socks prevent heat loss, ensure faster filament melting. Anti-clogging design ensures smooth flow.

Dual Direct Drive

Extrude flexible filaments accurately, dual direct drives enhance deposition speed, precision. Built-in filament sensor halts print for runout, clogs, abnormalities.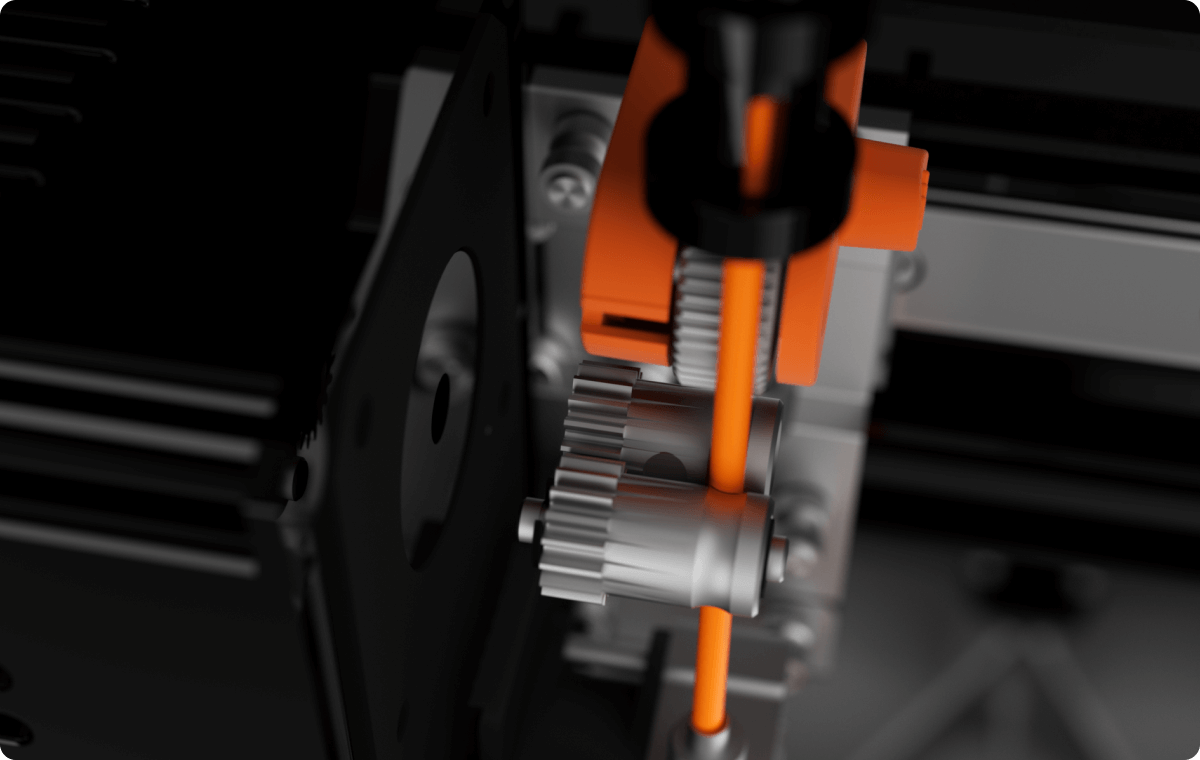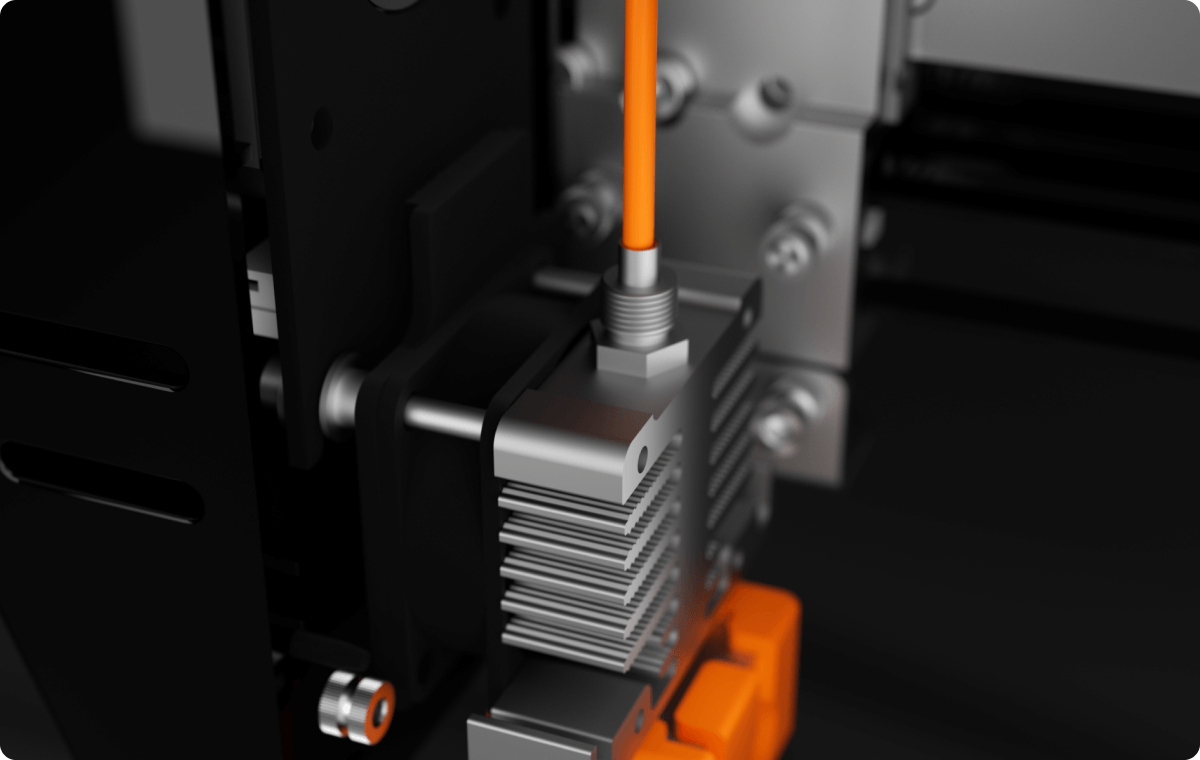 Streamlined Extrusion Path

Unique design offers seamless TPU printing and other flexible materials.

Enclosed Chamber

Stable conditions enhance high-temperature material performance, prevents warping (e.g., ABS).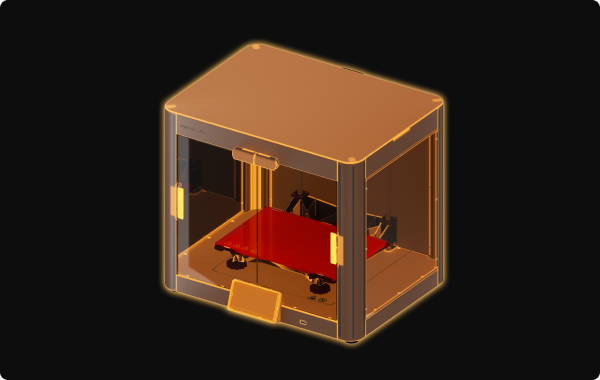 Advanced Projects Created with J1s.
TPU
Flexible and liable to under-extrusion, and therefore requires accurate control of extrusion and heat dissipation.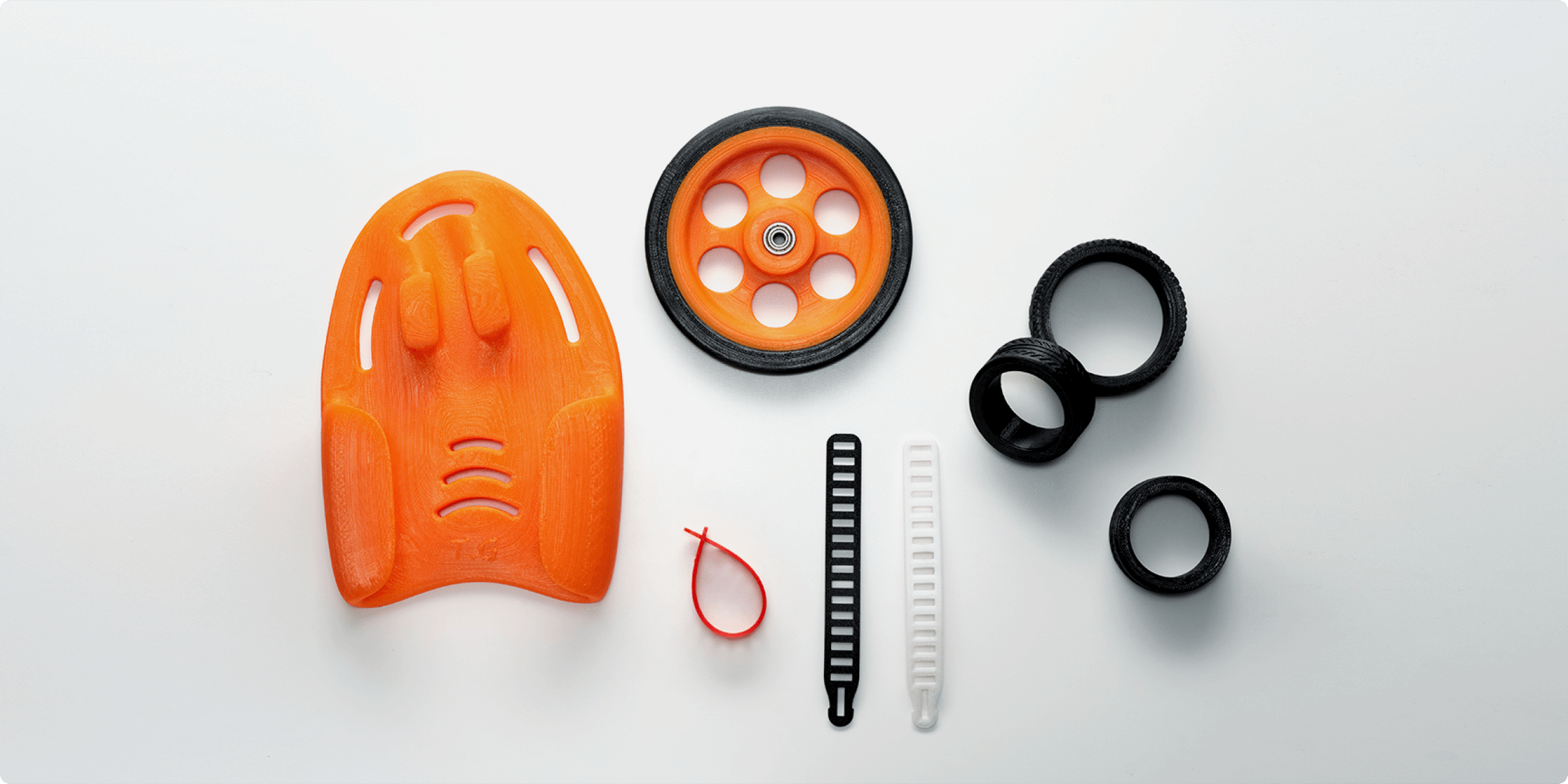 Nylon/PA[4]
Including nylon, PA-CF (Polyamide-Carbon Fiber) and PA-GF (Polyamide-Glass Fiber). Tough and wear-resistant, but require strict conditions of printing temperature and nozzle hardness.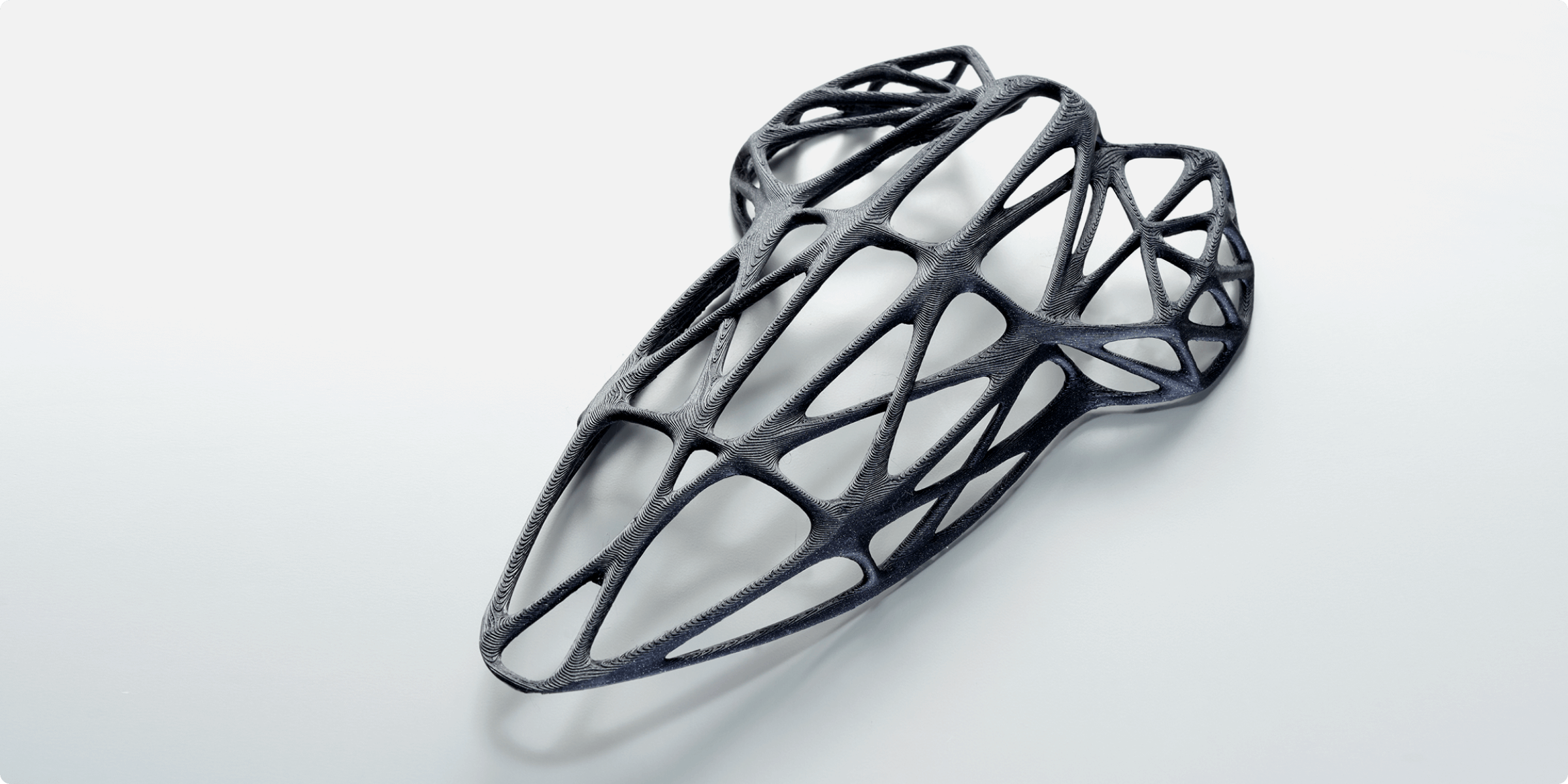 PC
Displays high heat resistance and excellent durability. Prone to warping and shrinkage, thus requires stable ambient conditions, best provided by an enclosed space.
Printing Properties:
Technology: Fused Filament Fabrication (FFF)
Extruder System: Independent Dual Extruders (IDEX)
Printing Modes:

Default Mode
Backup Mode
Copy Mode
Mirror Mode

Build Volume (W × D × H):

Default Mode & Backup Mode: 300 mm × 200 mm × 200 mm
Copy Mode: 160 mm × 200 mm × 200 mm
Mirror Mode: 150 mm × 200 mm × 200 mm

Layer Height (with 0.4 mm nozzle): 0.05 mm–0.3 mm
Build Plate: PEI glass plate
Max. Heated Bed Temperature: 100°C
Nozzle Diameter: 0.4 mm (included); 0.2 mm, 0.6 mm, 0.8 mm, Hardened (sold separately)
Max. Nozzle Temperature: 300°C
Filament Diameter: 1.75 mm
Supported Materials: PLA, ABS, HIPS, PC, TPU (Hardness > 90 Shore A), TPE, PETG, ASA, PP, PVA, PA, PA-GF, PA-CF
Data Transmission Methods: Wi-Fi, USB cable, USB flash drive
Average Operating Noise: < 50 dBA
Machine Properties:
Dimensions (W × D × H): 539 mm × 401 mm × 464 mm
Net Weight: 22 kg
Touchscreen:

Size: 5 in.
OS: Android
Resolution: 1280 × 720 pixels

Memory: 1 GB RAM, 8 GB eMMC
Repeatability of Linear Rails:

± 0.03 mm (X/Y)
± 0.02 mm (Z)

Expected Lifespan of Linear Rails: Over 10 Years
Operating Conditions:
Operating Environment:

Temperature: 10ºC–35ºC
Relative Humidity: 10%–90% (non-condensing)

Storage Environment:

Temperature: -20ºC–55ºC
Relative Humidity: 10%–90% (non-condensing)
Power:
Input:

Rated Voltage: AC 100 V–240 V, 50 Hz/60 Hz
Rated Current: 4.4 A Max.

Output: DC 24 V, 400 W Max.
Software:
Supplied Software: Luban (third-party software supported)
Supported OS of Luban: Windows, macOS
Supported File Formats: STL, OBJ, 3MF
Output File Formats: Gcode
In the Box (Snapmaker J1s):
The package includes various components and accessories such as the Snapmaker J1s 3D Printer, print cooling fan, PEI glass plate, filaments, power cable, USB cables, filament holder, tools (pliers, tweezers, hex keys), USB flash drive, cleaning accessories, calibration card, quick start guide, safety guidelines, cable clips, screws, and hot end socks.
Videos
Introducing Snapmaker J1: The High Speed IDEX 3D Printer
Payment & Security
Your payment information is processed securely. We do not store credit card details nor have access to your credit card information.